LHS

girls looking for answers on defense, at free-throw line
So what if the Lansing High girls' basketball team lost big to Tonganoxie?
That's not what concerns Lions coach Keith Andrews. Most teams have been drilled by the Chieftains (10-2 overall, 5-0 Kaw Valley League) this season.
What has Andrews concerned is the way his team has played during stretches of its three-game losing streak, which includes a 62-51 loss to Silver Lake, a 65-61 loss to Jeff West and a 58-36 setback Tuesday at Tongie.
The Lions (5-6, 3-2) started slow and struggled miserably during the first quarter of each loss, missed free throws and continued to allow opponents third, fourth and fifth chances to score with offensive rebounds. That was most clear against Tonganoxie, which raced to a 17-1 lead and never looked back.
"We're getting kind of ticked off," junior forward Amanda Radovich said about the Lions' recent play. "We're better than 20 points down on Tongie. We're just not getting good starts. We're not as pumped up as we were (during the four-game winning streak)."
It would be easy for the Lions to get down on themselves after the string of losses - especially when it conjures up memories of last year's 7-14 season - but Andrews said he hasn't sensed any fear in his squad.
"I don't think they're shocked. I think they're frustrated," he said. "They've got to realize that we've got to fight, fight, fight, and it's got to be every possession thing. We're not going to run over people night in and night out, and we've got to get back on that and get back to our winning ways."
Radovich said they're starting to figure that out.
"We know we need to work harder," she said. "Also, the past three games have been against very good teams. Tonganoxie's ranked top five in the state and Silver Lake is No. 2 in Class 3A. We've played some hard teams, and the best thing about it is we never give up."
Andrews said the greatest positive he could find during the losing streak has been his players' attitude. He said he sensed his players were beginning to understand how hard they're going to have to work to win, and they showed they were capable of doing it in the second half of each game as they made furious rallies.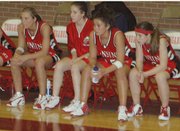 That was most evident against Tongie when the Chieftains took a 29-point lead into the fourth quarter. THS left most of its starters in the game despite having the victory in hand, but Lansing slugged back with a 16-2 run, keyed by seven points from Radovich and five from junior Nichole Twitchell, and pulled within 51-36 with two minutes remaining.
The fourth quarter against Jeff West took on similar fashion but with a much smaller deficit as Twitchell scored 10 of her team-high 15 points in the fourth quarter and had LHS within two heading into the final minute.
Lansing next plays at 6 p.m. Friday when it plays host to Basehor-Linwood. The Lions beat the Bobcats, 49-31, on Dec. 14 for their first league win. That said, Radovich guaranteed the Lions won't be taking Basehor lightly this time around.
"Basehor's going to be crucial," she said. "We've got to go in there and we've got to get a win."