Lions march through gauntlet stretch, continue winning
If you've noticed the Lansing High wrestlers have looked a bit weary this week, there's a good reason for it.
LHS just finished a stretch of five meets in 10 days. That's enough to make ordinary teams crumble, but the Lions are no ordinary bunch. They rose to the challenge each night out, however, as the Lions swept a double-dual at Piper, split two home double-duals and picked up team titles at the Prairie View and Holton Tournaments.
After such a daunting stretch, coach Ron Averill decided it was time to give his athletes a well-deserved breather. On Monday, practice was optional.
"It was the first time I've ever seen that happen," sophomore Casey Caton said. "I was exhausted. I know of like four or five people that came in."
Averill said his squad competed so hard during the week-and-a-half span that it was healthy to give them a recovery day. Sure enough, on Tuesday it was back to business as usual.
"It was evident that all of us needed a little break," Averill said, "and honestly, we probably still do, but we ended strong today and the guys were stepping up."
Averill said the week's practices were more spirited because of the successes his squad experienced during its march through the five-meet gauntlet. Guys like junior Sean Flynn, sophomores Kyle Grape and Kyle Buehler and freshman Nick Flynn who have dominated all year continued to do well.
Other guys took major strides in improving their chances at qualifying for state, too. That is what excited Averill the most about the past week.
Specifically, freshman Chance Thackston at 103 pounds and junior Brett Wessel at 275 surged ahead in their progression. Both wrestlers placed third Saturday at Holton and avenged prior losses.
"The tournament was awesome for Chance," Averill said. "He really came in and started doing a lot of right things. His biggest problem was that he'd been doing a lot of the right things but then he'd make a critical mistake. The greatest thing for him was that in the consolation final he avenged a loss he'd had Tuesday night to a Perry-Lecompton kid and he pinned the kid.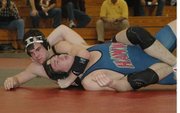 The same thing happened with Brett Wessel. Brett avenged his loss from the Perry-Lecompton dual with a pin in the consolation final."
It wasn't just Thackston and Wessel who impressed Averill, though. His entire squad did because he said for the first time this season everybody started seizing the moment and put themselves in position to be in championship-caliber matches. Whether they won individual titles, as Grape and Sean Flynn did at Holton, earned a consolation title as five other Lions did, or won a hard-fought match at a dual, Averill said his wrestlers were beginning to take on championship form.
"There's nothing the coaches and I can do to put them up in that championship light unless they're willing to put themselves on the line to make that happen," Averill said, "And every single one of them is stepping up. That's what's encouraging to me. We're at the point where we can sense the imminent championship match and be excited about it. Everybody can sense that. Many people anticipate it with fear, but we anticipate it with excitement."