Chamber taps mayor for award
Mayor Kenneth Bernard has a new title to add to his long resume: Citizen of the Year.
The Leavenworth-Lansing Area Chamber of Commerce gave Bernard its top award Wednesday night during its annual meeting at the Riverfront Community Center in Leavenworth. Also honored was Saras June Yi, an honor student and Student Council president at Leavenworth High School, who was named Junior Citizen of the Year.
Ross Markle, who owns dry-cleaning businesses in Lansing and Leavenworth, nominated Bernard.
"For over 23 years, Mayor Bernard has been on the Lansing City Council and has led the management of the city's rapid growth," Markle said in the nomination papers. "Since 1979 to present, Lansing has doubled in size. His leadership has helped this growing community develop responsibly."
The nomination included a litany of projects and accomplishments in which Bernard has played a part:
¢ Establishing a parks and recreation department to begin programs for children
¢ Providing leadership to develop the city's first public library
¢ Establishing a fire district for the city and county
¢ Sparking a Fourth of July celebration for community togetherness
¢ Assisting in the formation of a Lansing Historical Museum to preserve the Santa Fe Depot
¢ Construction of two wastewater treatment plants
¢ Construction of a new City Hall
¢ Numerous infrastructure improvements.
The nomination also included a long list of civic and service groups in which Bernard has been a member. Among those groups are: Lansing High School Boosters, Lansing Daze Festival Committee, Leavenworth County Port Authority, Lansing Convention and Visitors Bureau Committee, Kansas Mayors Association, Lansing Lions, Veterans of Foreign Wars Post 12003 and American Legion Post 411.
While he is currently seeking re-election as mayor, Bernard also is leading the charge to win public backing to renew Leavenworth County's 1 percent sales tax.
"Mayor Bernard's hard work and dedication to provide a wonderful quality of life for the citizens of Lansing is noteworthy and deserving of recognition," Markle wrote.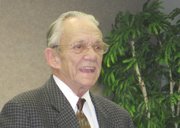 Charlie Gregor, executive vice president of the chamber, said Bernard's long track record played a key role in winning the award, the recipient of which is selected by a committee that includes past honorees.
"He has a strong history of dedication to the community, no doubt about that," Gregor said.
Lansing resident Tom Throne, outgoing president of the chamber and publisher of The Leavenworth Times, was scheduled to present the award to Bernard.
Yi, the Junior Citizen of the year, was nominated by Leavenworth High School guidance counselor Patricia Klima, who called the senior "an outstanding young woman."
"She is one of our top senior students at Leavenworth High, intelligent, reliable, with an infectious personality," Klima wrote in her letter of nomination.
In addition to being Student Council president, Yi also is vice president of the school's National Honor Society, Goodfellows and Choir Club. She is described as a gifted musician, earned a letter in varsity tennis and was a junior varsity cheerleader.
"Saras gives back to her community by spending endless hours volunteering at one of our local hospitals, assisting as a counselor with the Leavenworth Police Department's G.R.E.A.T. Summer Camp, working at her church and other projects too numerous to mention," Klima wrote.
Yi is the daughter of Chang Sun Yi and the late Chong Tae Yi.