Middle Schoolers sing in District choir
Just before sunrise Saturday morning, Lansing music teacher Sherri Schwanz was passing out Krispy Kreme doughnuts and juice boxes to 13 sleepy seventh- and eighth-graders. A short time later the children were on the way to Shawnee Mission Northwest High School for the day to perform in the District Choir.
Schwanz has chosen students to participate in the district choir all six years of her Lansing Middle School teaching career. The children are notified before the winter holidays and given a compact disc of the songs planned for the district choir concert. They learn their parts from the cds and come together with about 30 other schools in January to rehearse and perform one Saturday.
To prepare for the concert students must spend their own time rehearsing and getting to know their parts.
"We're not performing any (of the pieces) in class, it's totally on their own," Schwanz said. "They had the rehearsal cds to memorize the parts. Before school, after school I've worked with them some, but as with any other thing that happens, some of them have basketball, some have play practice. I don't think we've ever been together as a group to rehearse."
Each school is limited to eight students, but in Lansing's case a few more were allowed. Schwanz said program coordinators asked her to bring a few more boys along because many schools don't have the number of interested male students Lansing has. Schwanz selected nine boys to go.
The students are dedicated; many of them have been singing for years.
Eighth-grade soprano Kristyn Russell, who had a solo part in one of the songs performed, said she had been singing since third grade and that she enjoyed it because it was something she was good at.
Seventh-grade tenor Kevin Reed, who's been singing for five years, said he was performing because singing is fun and "I like how singing sounds."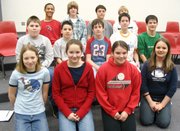 Chelsea Weeks, a seventh-grade alto, said, "I feel I can express myself without embarrassing myself," when explaining why she wanted to sing. She plans to continue singing in high school.
On Saturday the students spent the entire morning rehearsing together for the first time. At 1 p.m., to an auditorium filled with parents and relatives, many armed with video recorders and all ready with smiles, the full district choir performed under Elise Peterson of Hays High School.
The Lansing students who participated included: Neil Schoenfelder, Ryan Hays, Kevin Reed, Matt Compten, Paul Rodgers, James Johnson, Ryan Delich, Kyle Willcott, Brian Beall, Molly Kane, Bobbi Walden, Kristyn Russell and Chelsea Weeks.