At home in the lumberyard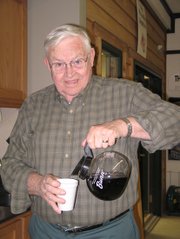 The Peterson family tree is rich with lumber. If you are a relative of Pete Peterson, it's likely that you have spent some time in a lumberyard.
Pete Peterson's passion for lumber started by observing his father, who worked for Mission Lumber. He worked with his father growing up and later in a Herington lumberyard.
"I always wanted to run a lumberyard," Peterson said.
In 1966, his dream came true when he was chosen to run Lansing Lumber. He bought it in 1983. Both of his younger brothers, Mike and Jerry Peterson, have worked with Pete at Lansing Lumber, but they have now moved on to other lumberyards. Pete's wife, Barbara, has worked in the Lansing Lumber office since 1980. And his sons, Jon and Pat, sit across the hall from him working for the family business, too.
Lumber even has a presence in the fourth generation of Petersons. Pete's grandsons Greg, a senior at Lansing High School, and Matt, a sophomore at LHS, also help out.
But Pete's life isn't just lumber. During his tenure as volunteer fire chief, he sounded the siren when other fire fighters spotted tornadoes so people would know to go to their basements. All the while, he was at the old City Hall in the 100 block of South Main Street, which was not the safest place to be during severe weather because of its hilltop location.
"I don't know what I would have done if a tornado would have actually come," Pete said. He has dedicated much of his life outside of work to volunteering and encouraging others to volunteer throughout the years.
"That's what's great about Lansing," Pete said. "Everybody chips in any time you ask anyone to do anything."
Name: Pete Peterson
Address: 12615 Quail Hollow Drive.
Occupation: Lumberman since 1948; in Lansing since 1966
Graduate of: Redemptorist High School, Kansas City, Mo.
Family: Wife, Barbara; two sons, Jon and Pat; two daughters, Anna and Amy; eight grandchildren
How long have you lived in Lansing and what brought you here? In 1966 a group of investors bought Lansing Lumber and reopened it, hiring me to run it.
What do like most about Lansing? Friendliness, small town
What do you do to relax? Sleep, watch baseball, football and KU basketball. I also own season tickets for KU football.
What would surprise people about you? I'm not sure I can surprise anyone now. Everyone knows I like to speak my mind, especially City Hall.
What is the best advice you ever received? Work hard and you will get what you want.
What organizations or clubs do you belong to? Ran clock at Lansing High School football and basketball games; Lions Club, lifetime member and two-time president; St. Francis de Sales Catholic church member and former member of the pastoral council; Delaware Township Volunteer Fire Chief, 1971 - 1981; Lansing Chamber of Commerce former member of the board of directors; former member of the Lansing planning commission; former coach for youth baseball