The Nine-Mile 4-H Club was chartered in 1929. The Charter number was 405. I knew all the families that are in the picture with this article. Ada and I were both in the Nine-Mile Club in the early '40s. Ada's project was sewing; my project was gardening. This was before the Victory Gardens of WWII. Almost everyone had a garden then. Many town kids were in the club, but most members lived in the country.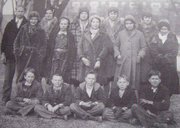 I remember going to many homes in town and in the country for meetings. One meeting night I was riding with Merle Eyestone and Willa Deanne Mills going east off highway 73 when we got stuck in mud 6 inches deep. We took off our shoes and socks and walked in the mud, in the dark, to Don and Neil Young's house for a meeting.
Merle Eyestone helped me fill out my project report. Merle was involved in Kansas 4-H for nearly 60 years.
During World War II, the 4-H clubs did many things besides food production. They held drives to collect metal, aluminum, paper, rubber, fat and rags. The Kansas 4-H clubs sold more than $2 million worth of War Bonds. Caster Oil was a project for some clubs to lubricate aircraft engines. Milkweed fluff was saved for filling life jackets.
Our sponsors were Mr. and Mrs. Stewart who lived on the Stillings farm north of Lansing, a large home where Home Depot is now located.
The first thing I saw in this house was a huge oil painting of Mrs. Stillings. I thought I would love to be able to paint a portrait like that. The last time I was in the Carroll Mansion Museum in Leavenworth, I saw that picture again and was just as impressed.
The first County Agent in Kansas was P.H. Ross in Leavenworth County in 1912. County agents have always played an important part in supporting 4-H clubs. Our Nine-Mile Club no longer exists, but there are other great clubs in the area that continue to do great things for our young people.