Tough enough at Tongie
Lansing boys kick four-game skid during busy week
After the Lansing High boys' basketball team's disappointing loss to Pleasant Ridge last week, LHS junior Cody Mohan predicted the next stretch of games would be telling about the Lions.
Here is what we learned.
They're a group of tough-as-nails fighters who refuse to quit. At least that's what they indicated by rattling off three straight victories - including two straight over rival Tonganoxie at the Chieftains' home gym. Lansing defeated Tongie, 49-46, in overtime Saturday and hung on for a 48-46 win Tuesday night. LHS also defeated Silver Lake, 56-41, on Thursday.
"We've got a lot more confidence now," junior Chris Wagner said. "We're coming in looking forward to winning instead of worrying about what's going to happen or how we're going to play. Those first two games really got our confidence up. Tonight we knew we could come in and win."
LHS coach Don Allen praised his players' work ethic and refocused attitude during the past week as being keys to shaking a four-game losing streak. In previous weeks, he and his players indicated the Lions weren't playing together or running their offense properly.
After sorting through some issues, however, Allen said everyone settled down and regrouped.
"It was more of our problems than problems that were caused by another team," Allen said. "We just weren't playing well and we needed to understand that. We also needed to understand how we have to play to give ourselves a chance to win.
"A lot of those losses were caused by things we couldn't do as opposed to what they were doing to us. We simply weren't playing well enough to beat good teams, but this has been a good stretch for us."
Now, Allen said, the Lions are figuring out what kind of effort it is going to take to win. That effort includes better passes, feeding the ball inside, making open jump shots and playing tougher defense.
Junior Jeff Slater said they're starting to understand that.
"We're starting to play as a team," he said. "Against Pleasant Ridge we were playing me-ball, but now we' re playing as a team. Wagner might have four points or Cody might have four points, but he's going to have eight assists to me or David (Kern). We're passing the ball and we're working the ball around on offense. I was getting the ball on some sweet passes today."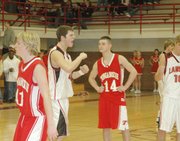 The Lions took their first step forward by defeating Silver Lake on Thursday. They never had much trouble with the Eagles as Kern and Slater combined for 38 points in the post.
Then came the first pairing with Tonganoxie in the fifth-place game of the Tonganoxie Invitational Tournament on Saturday. LHS reserves Jeff Collins, Keith Valverde, Joe Kohl, Jeff Collins and Austin Reynolds sparked Lansing in the first half before the starters rallied the Lions to an emotional overtime victory.
Still, as big as the back-to-back wins were, Allen said Tuesday's victory against Tongie was the most important one of the season. It not only gave the Lions a confidence boost but also bolstered their position in the Kaw Valley League standings. At 5-6 overall and 2-3 in the league, they had some work to do to climb back into the race.
In the rematch, Slater scored all 22 of his points in the first three quarters. Matt Warner added two huge baskets on put-backs, as did Jeff Jackson. Then Wagner topped off his five-assist, three-steal performance by scoring all 11 of Lansing's fourth-quarter points, including the game-winner on a running jumper in the lane with 1.4 seconds left.
The Lions will try to stretch their winning streak to four games at 7:30 p.m. Friday when they play host to Basehor-Linwood (2-8, 1-3). The Lions defeated the Bobcats, 55-42, on Dec. 14 behind Kern's 20-point effort.