LHS

grad first of new award recipients
Soldier wounded in Iraq joins four others decorated with Army's Combar Action Badge
A 1996 Lansing High School graduate is one of the initial five recipients of the Army's new Combat Action Badge, awarded to soldiers who engaged in combat with the enemy.
Army National Guard Sgt. Timothy Gustafson received the award from Army Chief of Staff Gen. Peter J. Schoomaker last week in a ceremony at the Pentagon.
Gustafson lost part of his right leg on Jan. 24 while he was conducting a pipeline security mission in Iraq when enemy forces detonated a bomb near his Humvee.
Since the bombing, he said his life has been an adjustment period.
"I'm learning to walk all over again. Sometimes when I am lying in bed and try to stand up, it strikes me that I am an amputee. I continue to enjoy life and look forward to sharing it with my wife with the new twist that God has given us," Gustafson said.
The Combat Action Badge, approved by Schoomaker in May, was created by the Army's leadership to recognize all soldiers in combat. Soldiers engaged in the War on Terrorism since Sept. 18, 2001, are retroactively eligible to receive the award.
Photo Gallery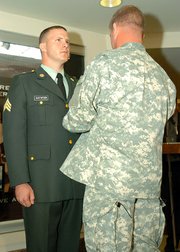 Combat Action Badge
Sgt. Tim Gustafson, a 1996 graduate of Lansing High School, was one of the first five recipients of a new U.S. Army award, the Combat Action Badge.
" The soldiers standing here have earned the right to be American - they have walked the walk, they stand for nobility and they represent the warrior ethos," Schoomaker said at the ceremony.
Sergeant Major of the Army Kenneth O. Preston also attended the ceremony.
"These soldiers are a reflection of the Army team fighting the Global War on Terrorism," Preston said. "Sit down and talk with any one of them and you'll find they are Americans who chose to be a part of something bigger than themselves and serve our nation at large."
Gustafson, who already was awarded a Purple Heart for the injuries he suffered in the bombing, continues to be treated for his injuries at Walter Reed Army Medical Center in Washington, D.C.
"I don't know if the terrorists understand the type of life we are fighting for, but I think they will understand in the long run," Gustafson said.
Gustafson, who was deployed in Iraq with the 1st Battalion, 278th Regimental Combat Team, now lives in Clarksville, Tenn.
His mother, Shirley Gustafson, still lives west of Lansing.