Spinmaster tells kids to go after dreams
He's only 17 years old, but the 2002 national yo-yo champion had some sage advice for children attending last week's Sizzlin' Summer Program series.
"If you go after something you want and work hard, you can probably get it," Brent Dellinger told the children who were watching his yo-yo moves with amazement at Lansing Activity Center.
He should know. With his huge success as a yo-yo champion, Dellinger was able to buy his dream car, a red Porsche 911 Turbo, proving to all the children present that hard work really does pay off.
Dellinger has found wide success in his field. As well as being the national yo-yo champion, he placed second at the World Yo-yo Competition held in Orlando, Fla., in 2003. He also has his own brand of yo-yo out of the market, the Brent Dellinger Spinmaster, and continues traveling around the world to compete.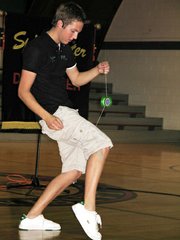 Dellinger, a Salina native, began playing around with a yo-yo when he was only 12, practicing up to 10 hours a day. He said that seeing a yo-yo contest in his hometown made him want to try for himself.
Beginner books and videos were how he first learned the tricks and skills of the yo-yo, Dellinger said, but now when putting together his competitive routines, he makes up the majority of the skills himself.
The National Yo-yo Competition began in 1993 and has been held annually since in Chico, Calif.
The Sizzlin' Summer Program series, sponsored by Lansing Community Library, continues at 10 a.m. today at the Activity Center with Parasol Puppets' presentation of "George and the Dragon." The puppet show will relate to the theme of the library's summer reading program, "Dragons, Dreams and Daring Deeds."