Mowery powers Cavalry past Basehor
Kohl's bat sizzles too; Amaral, McMillin solid on mound
Matt Mowery's breakout game fueled an explosive return to the baseball field for the Lansing Cavalry on Wednesday night at Lansing High School.
The Cavalry had lost six of their last eight games prior to having a week off for the Fourth of July. During that losing skid they were plagued by errors and injuries, all of which seemed to have disappeared Wednesday night.
The Cavalry (12-9) piled up 29 runs on 27 hits as they won game one 16-3 and then took the nightcap 13-0. Mowery had four hits in the twinbill, including three straight doubles in game one and a towering two-run home run to left-center field in game two.
"When we needed it (during the losing streak) I wasn't doing so hot," Mowery said, "so I told myself, 'we've only got about six more games until Zone, you need to (pick it up).' Coach said he needed me so I told him 'I'll be there. I'll step up. You can count on me coach."
Mowery wasn't the only one stepping up Wednesday night. It was an all-around effort.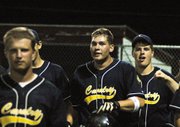 In addition to the offense, Lansing played clean baseball and received dominating pitching efforts from Mike Amaral (five-hit victory in game one) and Matt McMillin (two-hit shutout in game two).
It's been a while, but on this night the Cavalry looked like the complete package.
"This game gets our confidence up once again," Mowery said. "Now we know we need to come in and play these games like we know we can play."
On Wednesday night Lansing looked every bit the team that rattled off five straight victories to open the season. The Cavalry plated three runs in the bottom of the first and never looked back in game one. Tom Kohl started the barrage with a first-inning single - part of his four-for-four effort that included four runs and four RBI. Kohl's two-run double in the fourth and another Mowery's first two-bagger of the game helped press the lead to 7-0.
Basehor rallied and pulled within 7-3 in the bottom of the fourth as LHS student and Basehor center fielder Chris Clemmons smashed a double to deep center field that scored two runs. After that it was all Lansing.
Photo Gallery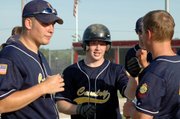 Cavalry sweep Basehor
The Lansing Cavalry swept first-year program Basehor for the second time this summer when they picked up victories of 16-3 and 13-0 on Wednesday night at LHS.
Mowery ripped another double in the fifth and one more in the sixth as the Cavalry scored nine more runs to complete the run-rule spread.
Game two was never in question as Lansing jumped to a 4-0 lead in the top of the first. Mike Bayless smashed a leadoff triple and then scored on a passed ball. Kohl followed with a single and advanced to third on Cody Mohan's base hit. Kohl scored on a wild pitch. Mohan was picked off in a run-down between third and home, but Jeff Terrill and Mowery both walked and later scored on Johnny Stratton's single up the middle.
The Cavalry scored four more times in the second when Jordan Pratt, Bayless, Kohl and Mohan all walked and came around to score. Conn Blakley doubled and scored in the fourth to push the lead to 9-0. Then Mowery's two-run blast capped a four-run sixth that completed the run-rule victory.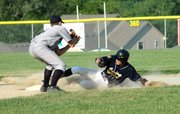 Mowery's homer was his second of the summer and first at home. He said it was special to hit one out at home and in a game that was important to his team.
"It felt great to do it at home in front of all of the fans," Mowery said. "Everybody gives me a lot of support - all of the teammates, mom and dad and everybody. It was real good. It makes it even sweeter to do it in a game that is a rivalry because they're from across town. It felt real good."
The Cavalry won't have much time to savor their sweep. They play host to Royal Valley in a doubleheader at 6 p.m. Thursday at LHS.
NOTES
- Mike Bayless had three hits and scored six runs in the doubleheader.
- Tom Kohl was six-for-seven at the plate in the two games. He scored seven runs and had four RBI.
- Cody Mohan and Jeff Terrill both were four-for-seven in the twinbill.
- Matt Mowery has allowed four hits in four games this summer for the Cavalry. His record, coincidentally, is 4-0.
- Amaral upped his record to 3-2 with the win.