Coaches make a splash
Riptides thriving under new leadership
It's 8:25 a.m. on Tuesday morning, and the pool deck is bustling with swimmers at Riverfront Community Center in Leavenworth.
The early practice session for the Leavenworth Riptides is finishing and the second session is about to start, so young swimmers are clearing the pool and older swimmers are diving in. Somewhere in the midst of the swimmers are John and Kelli Denney. They're greeting new swimmers, chatting with parents, handing out directions to Wednesday's meet and giving kids their schedules of events. On top of that, they're keeping an eye on their 2-year-old grandson Devin.
It's all part of the job for the Denneys, the Riptides' second-year head coaches.
COACHES IN TRAINING
John and Kelli Denney first started attending swim meets when their daughters were little. They were supportive parents, but they never dreamed they one day would run the program.
Steadily, however, their involvement grew.
"My friend got us started," Kelli Denney said. "Her kids were swimming, so we got our girls into swimming, and then they started putting us in to volunteer."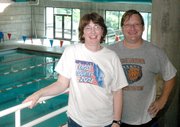 The Denneys started as ribbon writers. Then they were timers. Later they became judges. Eventually, there was an opening for a new head coach, so they were volunteered again.
"We've coached for the Special Olympics for years," Kelli Denney said, "so it was something we loved to do. We love to work with kids."
The high school teachers - Kelli works at Leavenworth High and John, at Perry Lecompton - had spare time in their summer schedules, so they agreed to coach.
The Riptides had struggled in recent years, though. Numbers were dropping and they hadn't won a meet in more than four years, so the Denneys knew they'd have to make some changes.
TAKING CHARGE
"Kelli and John emphasize the strokes, the turns and the starts," said assistant coach Suzie Mohrmann. "That's not a whole lot different from any of the other coaches, but they care enough and they want to make it fun. I think that's why the kids keep coming and getting better."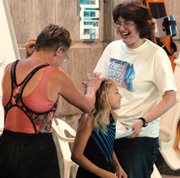 The club practices Monday through Friday in two sessions. The younger kids swim from 7:30-8:30 a.m. The older kids swim from 8:30-9:30 a.m. Workouts are structured and focus on the basics, but fun had to be rule No. 1, John Denney said.
"If a kid has fun, they'll put out more effort and they'll try harder," he said. "If you're not having fun, it becomes work and they don't want to do it - especially during the summer."
The Denneys also have made the program more goal-oriented. They said it was important for kids to see if they're improving each week. That's why they post results after each Wednesday meet. They highlight the times of swimmers who improved their times over the previous week.
"On Thursday morning, they want to know where the times are," Kelli Denney said.
The Denneys don't stress winning meets as the squad's ultimate goal. The goal each week is for each swimmer to improve. If that happens, John Denney said, the rest would take care of itself.
"If you are improving your time, I can't be upset that we didn't win," John Denney said. "I can't ask for anything more."
CLUB ON THE RISE
The Riptides now are winning. They snapped a winless streak that was at least four years three weeks ago. A new streak is under way for the Riptides - a winning streak. They've won two straight meets against year-round swimming programs despite being only an eight-week program.
The steady improvement has been cause for celebration for the Denneys, but they also are excited about the future. Their number of swimmers increased by 23 this summer, and they expect it to grow again in 2006.
"People are bringing their friends. They're saying, 'You should try this,' and they've just liked it," said Nikki Gee, a 12-year-old who swam with club for five years, quit and then rejoined the Riptides this year. "They've brought a lot more kids in. That's the biggest change. Now you always have someone on the other end cheering for you."
The club could eclipse the 100-member mark next summer. If so, John Denney said they likely would go to three training sessions each morning instead of two. That would make even more work for the Denneys, but they said they don't mind. They said they just enjoy seeing so many kids excited about swimming.
"It's getting harder to help individual people get better because we have so many kids," John Denney said. "But don't get me wrong. I'm not upset we have that many. I'm glad we have that many, and hopefully if we (have more next year), we'll see even more improvement."