Census Bureau estimates put population at 10,117
The U.S. Census Bureau's latest population estimates confirm Lansing continues to grow - but at a pace that has city officials scratching their heads.
The bureau last week released its latest estimates - for population as of July 1, 2004 - and said Lansing had grown to 10,117 residents. That was up just 73 people, or less than 1 percent, from the bureau's 2003 estimated city population.
"I feel that's light," said City Council member Andi Pawlowski.
Pawlowski, who also is in the real estate business, said the number of building permits issued from 2003 to 2004 would lead her to believe more people relocated to the city than the Census Bureau estimated.
"I wouldn't say we had 10 percent growth," Pawlowski offered, "but I'd think we'd be about 5 percent."
The way she figures, the number of building permits issued by the city in the same time frame was about 100. "If you figure just three people per unit, you'd have 300 more people," she said.
Mike Smith, Lansing city administrator, said in its recent planning the city had planned on annual growth of about 200 to 250 people.
"We've got steady growth, and we've got controlled growth," Smith said.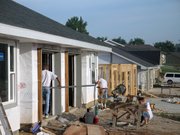 The Census Bureau's latest figures, he noted, are a year old. They don't likely include increased population from the opening last July of Lansing Heights Apartment Complex, nor do they take into account any single-family housing built and occupied since then. Lastly, the figures don't include an additional 200-plus people who were added to the city's population with an annexation of 1,200 acres of land late last year.
Pointing to the population increases around the Kansas Speedway, Smith said that growth would work its way up Kansas Highway 7.
"I'd say at least three or four years out, we'll see it," he said. "In fact, I think it'll be even bigger."
In addition to booming residential development, commercial development is taking place throughout the city, and announcements about long-awaited tenants in the Towne Center project are imminent, officials say.
"I think that with the development we're seeing now - and with the commercial development that's coming on - I doubt there'll be any slowdown," Smith said.