Prison arts program gives inmates hope
Bars. Fences. The same scenery; the same faces wearing the same denim shirts and pants day in and day out.
There's not much within prison walls to foster creativity - unless a spark from outside is allowed in.
Lansing Correctional Facility has such a spark. It's a program called Arts in Prison, and it was founded eight years ago.
Arts in Prison is a nonprofit organization that sends volunteers to LCF to teach music and creative writing lessons. But it all grew out of a men's chorus started 10 years ago by conductor Elvera Voth.
Voth, 81, spent 40 years conducting in Alaska. She founded the Anchorage Opera and the music department at the University of Alaska-Anchorage. She worked with conductor Robert Shaw and singer Bobby McFerrin, who wrote the song "Don't Worry, Be Happy." But before Voth did any of that, she conducted a chorus in her home state.
Voth, a German Mennonite, was raised in central Kansas.
"I grew up with the sound of men's choruses," she said.
When Voth returned to Kansas in 1994, she said she had an itch to volunteer. A project idea she had came to fruition at a reunion with her chorus.
Voth said she was asked if she would start another chorus. She answered that she had entertained the idea of starting one at a prison. It just so happened, she said, that a deputy warden from LCF was at the reunion, and she told him of her idea. She said the warden called her the next day and invited her to start the chorus.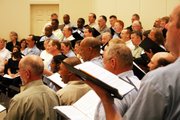 Voth started the East Hill Singers, which is named after the east wing of the prison where the minimum-security inmates are housed.
The chorus is open only to minimum-security inmates who have earned the highest level of freedom, said Nancy Meis, executive director of Arts In Prison. The chorus performs four shows each year, usually at churches around Kansas City.
East Hill Singers is made up of about 30 inmates and 30 volunteers, Voth said. This year, for the first time, about 12 of the inmates were from Osawatomie Correctional Facility, she said. Volunteers range from truck drivers to members of the Kansas City Opera, Voth said.
Though Voth said starting a chorus was an "enormous task," she said she wanted to volunteer at the prison to reach out to people that she had never worked with before.
"I wanted to reach a segment of the population that you don't reach when ticket prices are $30 a seat," she said. "I was tired of making music for people who are not really hungry."
After 10 years, Voth says her work with the East Hill Singers has been the most rewarding part of her life.
"I can't imagine having as fulfilling a life as I do," she said. "I can't imagine anything else I'd rather do."
Part of the reason Voth finds the work rewarding is the success she's seen. The chorus performs twice in January and twice in June. The most recent shows, held June 5 and 12 at churches in Mission and Prairie Village, were both performed in front of full houses, Voth said.
Meis, AIP director, said the chorus attracts about 3,000 guests each year to its shows. Meis and Voth agree that it's more than the numbers that make the program successful: it's the positive change in inmates' lives.
One former inmate, whose parole officer suggested he not give his name, said he first joined the East Hill Singers in the summer of 2002.
"I've always liked to sing, and it was one of the few creative outlets available to me at the time," he said.
The former inmate, who is 43, said the group was fun and offered a home-cooked meal at the potluck dinner after each performance, but he said it was also a "tremendous boost" to his self-esteem.
"It gave me hope that I could re-enter society as a productive member," he said.
So far, his hope has come true. He said he had a job and was setting up a business. He also is engaged and has written a novel that he said he hoped to publish. On top of all that, he has continued to volunteer with East Hill Singers since his release last year from LCF.
"The experience was such a positive one and did so much for me," the former inmate said. "I wanted to give something back to the people who gave something to me."
Such a story gives Voth hope that her program will help the rate of recidivism, the tendency to relapse into criminal behavior, which she called "shockingly high."
Voth said she wanted the program to help rehabilitate the inmates instead of letting them just serve time.
"Redemption means paying a specific sum to recover your own life," she said. "After they've done that, they ought to be able to - and society ought to let them - come back."