Wilk to receive national award at event at
KU
Lansing State Rep. Kenny Wilk will receive a national award during what's being billed as a statewide celebration next week in Lawrence.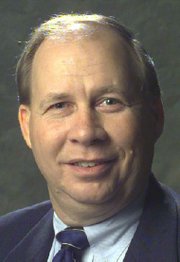 Wilk will be recognized as the 2004 BIO Legislator of the Year at a breakfast sponsored by the Washington, D.C.-based Biotechnology Industry Organization and KansasBio, two groups dedicated to promoting the biosciences industry across the United States and Kansas. The affair is scheduled to begin at 8 a.m. Monday, July 11, at the Dole Institute of Politics at the University of Kansas in Lawrence.
Wilk, with the assistance of Sen. Nick Jordan, R-Olathe, pushed through the 2004 Legislature the Kansas Economic Growth Act. The legislation, which won bipartisan support, makes an estimated $500 million investment over a 10-year period to solidify Kansas as a major player in the biosciences industry.
Slated to speak at the breakfast and awards ceremony are Kansas Lt. Gov. John Moore; Dan Richardson, who chairs KansasBio; and Patrick Kelly, vice president of state government relations for BIO.
Wilk has said it was his belief that biosciences are to the economy today what computer and information technology were several decades ago.