Board approves Johnsmeyer Gym
Old gym, new name.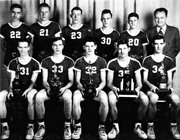 Lansing School Board on Thursday voted unanimously to name Lansing High School gym after Earl Johnsmeyer, who was a teacher, counselor and coach there for more than 25 years.
About a dozen patrons attended the meeting to show their support for dedicating the gym to Johnsmeyer. Schools Superintendent Randal Bagby said he had only received one phone call opposed to the dedication.
After the vote, board member Craig Gephart asked if there could be some way to post at the gym Johnsmeyer's legacy so visitors would know why the gym was named for him. Bagby recommended that a committee be formed to work out the details of how to display the name and recognition.
For more on Johnsmeyer, check out Thursday's Current.