Cavalry blast Blue Sox
Lansing enters Zone Tournament on three-game winning streak
Jeff Terrill smashed his team-leading sixth home run of the summer and four Lansing pitchers combined for a one-hitter as the Cavalry baseball team beat the Leavenworth Blue Sox 8-0 on Monday evening at Lansing High School.
Cavalry coach Jake Hanson said he couldn't be prouder of his squad during its final tune-up before opening 18-and-under American Legion Zone Tournament action at 1 p.m. Wednesday against Blue Valley West at Paola.
"That's the best we've played all year, honestly," Cavalry coach Jake Hanson said. "We had that one game against Ozawkie where we put everything together, but even when we started out 5-0 at the beginning of the year, and even when we played St. Joe, they had walked a lot of guys and we gave up a lot of runs. It seemed like tonight everything came together. We had the one error. We only had one walk. We made some good decisions on defense and all our pitchers, we made maybe one mistake pitching all night."
The Cavalry (17-13) didn't record a hit until the third inning, but five of the outs in the first two innings came on ground balls and fly balls after making solid contact. Once the first hit - a third-inning double by Tom Kohl - came, the hits didn't stop.
Kohl's double scored Mike Bayless who reached base by earning a walk. That run put Lansing on top 1-0.
The Cavalry plated three more runs in the fourth inning on three hits and two walks. Terrill ripped a double to left and scored on Lonnie Hansen's single up the middle. Johnny Stratton walked. Both then scored on Cody Mohan's single to left field and put the Cavalry ahead 4-0.
Photo Gallery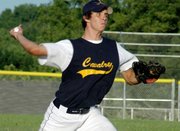 Cavalry blast Blue Sox
The Lansing Cavalry held the Leavenworth Blue Sox to just one hit during the Cavalry's 8-0 victory on Monday night at LHS.
Lansing bumped its lead to 7-0 when it added three more runs in the fifth. Terrill blasted a 370-foot solo homer to left field. Matt Mowery then was hit by a pitch. He scored on Jordan Pratt's double to the gap in left-center field. Pratt scored on Stratton's single.
The lead reached 8-0 in the bottom of the sixth when Kohl laced a double to right-center field and then scored on a double by Mohan.
The steady flow of runs proved to be more than enough offense because the Cavalry's four-man pitching effort held the Blue Sox to just one hit. Mike Amaral started on the mound and surrendered the lone hit - an infield single to second base. Mohan, Terrill and Conn Blakley finished the job.
For Terrill, who led Lansing High with four dingers in the spring, the home run on Monday marked his third in the last nine games. He's been an a sizzling tear during the last three weeks after a slow start to the summer.
"I just found my groove," he said. "Everything didn't feel comfortable at the plate (at the beginning of the summer), so I just put it together. I found it."
With the bats clicking and the defense in a groove, the Cavalry head into Zone Tournament play with plenty of confidence.
"We're going up in a tough Zone," Hanson said, "but if the guys play well, some good things are going to possibly happen."
NOTES
- Tom Kohl was 3-for-4 at the plate with two doubles and 3 RBI.
- Jeff Terrill was 2-for-3 at the plate with a double, a solo home run and two runs scored.
- Jordan Pratt was 1-for-1 at the plate with a double, a run and an RBI.
- The Cavalry won their third game in a row and have outscored their opponents 39-5 during those games.