Design business shows signs of growth
Celia Hansen may not be a practicing nurse anymore, but she still cares deeply for the people that she works with on a daily basis.
Hansen, who gave up nursing in 2000 to open Ceal's Designs and Signs, 110 S. Main St., said the only thing she misses about nursing is the interaction with her patients.
"It's frustrating being a business owner, but I like it," she said. "My customers are my friends."
Hansen started embroidery work in 1998 and opened up her first shop in January of 1999 in Greenville, Ill., where she and her family lived at the time.
"My nursing had been cut to part-time, and this was a way to supplement our income," she said.
She never planned to go retail.
"All I wanted was a home embroidery machine, and I got this," she said referring to the commercial machine she bought. "My husband, Aaron, researched machines online and found the commercial one to be better."
Hansen said she mostly taught herself the trade and has only taken a few short classes on various aspects of the business, including one evening class on the commercial embroidery machine.
Photo Gallery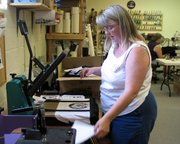 Ceal's Designs and Signs
Celia Hansen never planned to go into retail, but now her business, Ceal's Designs and Signs, has grown from a home-based embroidering operation to a Lansing Main Street business that uses a variety of tools and techniques to serve her customers.
Besides embroidery, Ceal's also deals with heat-press transfers, vinyl heat press and a technique called sublimation, a full-color process that can take a photograph or even a signature and bond it to a product. Ceal's uses the process on products like signs, plaques, license plates, key chains, car graphics and even jewelry, all of which Ceal's makes.
Hansen said sublimation was something she read about on the Internet and wanted to try out, so she bought a system. Ceal's Designs and Signs used the sublimation process for a year and a half before operators had taken a class.
"We passed with flying colors, obviously," she said. "We already knew everything."
Hansen said that for classes on the commercial embroidery machine and sublimation, she and her husband Aaron had to travel to Houston.
Hansen and her family moved to Leavenworth in 1999 when her husband's federal prison job was transferred. They opened up a shop in their home in 2000, eventually moving to a commercial location in Leavenworth in 2002.
"I always wanted to be in Lansing," Hansen said. "The majority of our business was to the Lansing schools, and Lansing was just a big part of our lives."
September 1, 2004, marked the opening of their shop in Lansing on Main Street. Hansen said that since moving Ceal's to Lansing, her business has improved tremendously.
Hansen has many people that help her out at Ceal's, including her friend Rick Coleman, his son, Josh Coleman, and Hansen's son, Lonnie.
"When we first opened, Rick was going to come in just to keep me company because his son works here, "Hansen explained. "That lasted two weeks. Now he comes in every day."
Hansen said Coleman took over the embroidery machine, watching what she did and then learning for himself how to work it.
"No," Coleman joked in response to Hansen's statement, "you gave it to me."
Hansen said her coworkers tell her all the time that she lets customers get away with paying nothing, but she doesn't care.
"Rick and Lonnie call me a softie, but my customers always come back," Hansen said. "Yeah, I'm here to make a living, but sometimes people just need a break."
Hansen also said that because she is a small business, she doesn't have much money for advertising, so she improvises.
"We often take our heat press right to events to save our customers money by only printing shirts or other items as they are sold. It not only helps them, but it is good advertising for me too," Hansen said.
Hansen works with her customers, trying to make the best product for them. But she said she's in it for herself, too.
"I just want to have fun with this," she said.