Error-prone Cavalry lose opener of tourney
Paola — Tensions were high and temperatures neared triple digits Wednesday afternoon at Russell Field. Smack in the middle of it were the Lansing Cavalry in their American Legion Zone Baseball Tournament first-round game.
Just two days removed from playing their best game of the summer - an 8-0 victory Monday over the Leavenworth Blue Sox - the Cavalry cracked and crumbled against Blue Valley West.
The Jaguars did plenty of damage themselves, pounding 14 hits, but the true cause of damage was the six errors Lansing committed that led to eight runs during the Cavalry's 12-10 loss.
"We gave up too many runs, and a lot of them were the same way we've been losing most of the season - defense," Cavalry coach Jake Hanson said. "I thought offensively, one through six, we did a great job like we've been doing all year. We did a couple nice things on defense, but we did so many of the other."
Mistakes plagued Lansing from the start. Two Cavalry errors in the first inning led to two runs for the Jaguars. Two more Lansing errors in the second inning led to four more runs. A fourth-inning Cavalry error allowed West to plate runs seven and eight.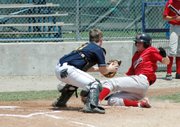 Fortunately for the Cavalry, their bats were hot all day. A double by Tom Kohl and back-to-back singles by Cody Mohan and Conn Blakley allowed Lansing to score twice in the bottom of the first inning. Two base-running miscues prevented them from scoring more, however.
Mohan reached base on an error in the third inning and then scored on a base hit by Blakley. Lansing plated two more runs in the bottom of the fifth and pulled within 8-5 when Kohl and Mohan both scored.
Each time Lansing fought back, the Jaguars had an answer. West hit steadily and took a 12-7 lead into the bottom of the ninth. That's when the Cavalry made their final rally. Blakley ripped a leadoff single. Jeff Terrill was hit by a pitch. Pinch-runner Kyle Hutchison scored on a passed ball. Lonnie Hansen reached base on a fielder's choice. Terrill scored on a double by Johnny Stratton. Then Matt McMillin's ground out drove in Hansen to pull the Cavalry within 12-10. A ground out by Mike Bayless cut the rally short, however.
The Cavalry will play at 1 p.m. today in the loser's bracket against the loser of Paola and Topeka Post 400.