Lunatics open nationals strong
Lawrence — Fresh off a fourth-place finish at the USSSA State Softball Tournament, the Lunatics rolled into American Fastpitch Assn. Nationals riding a major wave of confidence.
Lunatics coach Terry Denney said his squad had its sights set on placing first in a tournament ever since being runner-up in its first tournament of the summer. The Lunatics have two seconds, a third and a fourth-place finish to their credit so far this summer. On Wednesday and Thursday during Nationals pool play, they looked poised to make a run at a title.
The Lunatics kept their focus and composure during a scorching hot day Wednesday as they beat the Sooner Stars 3-2 and drilled the Omaha Extreme by a 6-0 margin.
The Lunatics ran into a bit of trouble Thursday morning during their final pool play game as they dropped a 4-2 decision to the Southwest Hammers, a team from Joplin, Mo.
The Hammers' pitcher brought a blend of fastballs and curveballs and proved to be effective as she limited the Lunatics to just five hits. Abby Mears and Laura Anderson were equally effective on the mound for the Lunatics, though, as they held the Hammers to five hits, too.
Two of the Hammers' hits came in the first inning and led to a run. Two more hits and an error led to two more runs in the bottom of the third inning.
Photo Gallery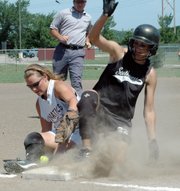 Lunatics start strong at AFA National Tournament
The Lunatics softball team made a strong showing during pool play at the AFA National Tournament in Lawrence. The Lunatics went 2-1 in pool play and earned a No. 2-seed heading into bracket play.
Trailing 3-0 entering the fourth inning, the Lunatics stepped up. Shae Salawich smacked a lead-off single. Mears also singled. Catcher Chelsey Grant then came up and hit a hard shot back at the Southwest pitcher, who scooped up the ball and then overthrew first base. The overthrow allowed Salawich and Grant to score and trim the deficit to 3-2. That was all the offense the Lunatics could muster, though, and Southwest plated another run in the bottom of the sixth to complete a 4-2 victory.
By going 2-1 in pool play, the Lunatics earned a No. 2 seed for bracket play. They are slated to open bracket play at 10 p.m. Thursday night.