Outlaws roughed up in pool play
Lawrence — The Lansing Outlaws softball team didn't make much of a splash during pool play at the AFA National Tournament.
The Outlaws (17-17-2) received a tough draw as they were paired against the KC Eclipse, the Topeka Explosion and the Manitoba (Canada) Magic, and few things went well for the Outlaws against those foes.
Lansing had eight hits against the Eclipse and received a three-hit pitching effort from Jessica Kane, but a first-inning error and double led to both runs scoring. Although the Outlaws hit well throughout the game, they never got a timely hit when they needed it as they lost 2-1 on Wednesday morning.
The game against the Explosion went in similar fashion. Lansing took a 1-0 lead in the top of the first inning when Jessica Hauver opened the game with a walk, advanced to second on a sacrifice bunt by Maggie Aus, and later scored on a play where the Topeka catcher was called for obstruction. Starting pitcher Erika Rios allowed just one hit through three innings, but a pair of errors and four hits - including a two-run homer - led to six runs in the top of the fourth and final inning as the Outlaws fell 6-2.
The Outlaws closed pool play on Thursday morning against Manitoba, and their Canadian opponents wielded heavy sticks. Fourteen hits - paired with seven Lansing errors - fueled the Magic's 13-3 victory.
Photo Gallery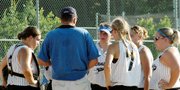 Outlaws go 0-3 in pool play at nationals
The Lansing Outlaws softball team went 0-3 during pool play at the AFA National Tournament in Lawrence. Here are scenes from the games.
Hauver provided Lansing's lone bright spark of the game as she went 2-for-3 at the plate. She opened the game by reaching base on an error and later scored on a bunt single by Aus. Jessica Stark later singled and then scored on a triple by Melissa Crawford. At that point, the Outlaws actually had a 2-0 lead, but it disappeared quickly in the bottom of the first when three errors led to three runs. Two more errors in the second inning led to three more runs. Manitoba hit the ball effectively from that point on and the Outlaws never recovered.
By going 0-3 in pool play, the Outlaws earned a No. 4 seed in the bracket play portion of the tournament. They are slated to open bracket play at 7 p.m. Thursday night against the Sooner Stars from Oklahoma.