Arts camp participation reaches record high
With record enrollment at this summer's Lansing PTA Music and Art Camp, it might be a tight squeeze Friday night at the closing concert where students going into first through fifth grades will showcase what they've learned this week.
"I'm telling parents, 'Better get there early,'" said Sherri Schwanz, Lansing Middle School choir director and one of the camp's organizers.
The concert will be held at 7 p.m. Friday at the Lansing Elementary School gym. About 190 students who are attending the weeklong day camp will perform 10 songs they have learned. Schwanz said she expected an average of two people per student to come to the concert, so to make room, she said the risers will be pushed back, chairs will be set up on the stage and art project displays will be moved into the hallway.
The camp has been held every summer for 16 years, Schwanz said. Lansing High School choir director Jonnie Brice started the program, and Schwanz said she joined in the second year. This year, six teachers are helping with the camp because of the large number of students. Schwanz said that in the past, enrollment had been between 100 and 150 students.
The theme of this summer's camp is weather. Students are learning songs such as "Breezes are Blowing," "Rhythm of the Rain" and "The Clouds."
But the camp is not just about singing; students also learn to play various percussion instruments such as xylophones and hand drums. Lansing Elementary School music teacher Ryan Rothmeyer said learning the instruments had several benefits for the students.
Photo Gallery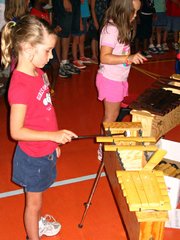 Lansing PTA Music and Art Camp
Lansing PTA Music and Art Camp marked its 16th year with record enrollment of 192 students. Students learned songs, played instruments and made art projects at the camp, which was held July 18-22 at Lansing Elementary School.
"It's really good for their gross motor skills and the ability to learn how harmony works," he said. "It's really good for learning to work together as a group."
Rothmeyer said even in the span of just a week, students could learn a great deal from the instruction at camp.
"We work on different skills than in the fall," he said.
Schwanz said she was impressed with the students' ability to learn so many new songs in a week.
"They pick (songs) up over twice as fast as adults and even the older teens," she said. "It's amazing to watch at that age."
The camp is split into two sessions, one for first- and second-graders and one for third- through fifth-graders.
Schwanz said she teaches the younger students by having them repeat sections of each song. She said she also uses gestures to help them remember the words. The older students learn the songs faster because they can read the words on the sheet music, Schwanz said.
During the art portion of the camp, students are making rain sticks, cardboard tubes filled with rice and covered with papier-mâche. The students also designed their own T-shirts, which they will wear at the concert Friday. Third-grader Jack Bresser said he was drawing a sun design on his shirt "because of these hot summer days."
As a bonus, students got to learn more about the week's theme Wednesday when they were joined by Don Harman, meteorologist for Kansas City's Fox 4 News. Schwanz said Harman would give students a presentation about weather.