Family's commitment to farming rewarded by county Farm Bureau
After a lifetime of farming in Leavenworth County, the John Sloan family was named the Leavenworth County Farm Family of the Year.
The Farm Bureau presented the award last week based on farm management, community involvement and overall activity in the Farm Bureau.
The Sloan family excelled in every category, as John Sloan has lived on his farm for 78 years, led 4-H groups with his wife, Marguerite, for 26 years and was president of the Farm Bureau in 1965.
"It's quite an honor to be picked out from all the Farm Bureau families," John Sloan said. "It's a nice award for the things we've accomplished in the past."
Sloan family farming history goes back well beyond John. His father farmed the exact same land, and so did his grandfather.
The property that Sloan lives on has belonged to his family since his ancestors purchased it in 1858.
"It's been in our family for 150 years," Sloan said. "We had a hog operation, a beef cow herd; we raised corn, soybeans and wheat. In all, we farmed about 1,000 acres."
Sloan still lives at his farm on New Lawrence Drive in rural Leavenworth with his wife, but he admitted that he was more or less retired.
"I still do a few things," he said. "I never officially retired. I just started slowing down in the early '90s."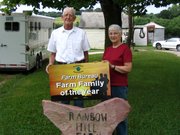 He has four children, all over the age of 35, and five grandchildren. None chose to pursue a life in agriculture.
Surprisingly, that never bothered Sloan.
"Farms are a good way to live, but it's not a real lucrative way of life," he said. "We're getting so urbanized here it's hard to make a living farming."
Even Marguerite Sloan, who helped with the farming duties when she moved to the land in 1951 is no longer in the farming business. She now works as a secretary at Leavenworth's Lawson Elementary School.
"I've done all the farm wife stuff," she said. "Farming has been good to us, but my job now pays better."
Of the Sloan's land, 160 acres is still being farmed, but only because John leases it.
Though John Sloan followed in his family's footsteps by farming, he said he was never forced into the agriculture business.
In fact, he grew up with five brothers and three sisters and was the only one of them to choose the farm life.
"I always liked farming," he said. "Some of my siblings did too, but I was the only one to stick it out."
For winning the Kansas Farm Family of the Year Award, the Sloans received a commemorative sign for their yard and a plaque for their home.
John Sloan said he didn't know where to put the sign but thought a noticeable spot would be good because not many people know his family won the award yet.