Recently promoted police captain finds Lansing 'just the right size'
Lansing Police Capt. Ben Ontiveros knows all about big, small and just right.
He was born in Houston, a major metropolitan area, and at age 10 moved to Sharpsburg, Iowa, a small town in the southwestern part of the state.
To Ontiveros, Lansing is "just the right size: small, but not so small that everyone knows everyone else."
Ontiveros joined the force in July 1994 as a reserve officer. In 1996, he became a full-time officer. He was promoted in 1998 to sergeant, then lieutenant about four years later, to head the emergency preparedness office. Under Ontiveros, the office drafted and put into place an emergency operation plan for the city.
Ontiveros' current post, to which he was promoted in April, is an administrative one, and he said his favorite aspect of the job was managing the patrol division and ensuring it runs smoothly.
"Every now and then I get the chance to impart some of my knowledge and train some of the younger officers. That's probably the most rewarding part," he said.
The most difficult part of his job, Ontiveros joked at first, was "all of it."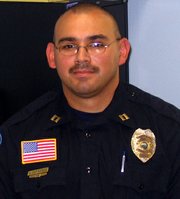 Kidding aside, he said that Lansing was a "pretty crime-free town," and that the difficult thing about his post was "encountering new experiences. Law enforcement changes, or has the potential to change, day to day. When you encounter something new you have to work through it and make sure your department's prepared for it."
Before coming to Lansing, Ontiveros worked a year at the Corning, Iowa, Police Department. Before that, he worked as an intelligence analyst in the Army, stateside and in Germany, South Korea, Saudi Arabia and Iraq in the first Gulf War. Some of his experience and skills in that position have been useful, Ontiveros said, in physical security and analytical work in the Lansing department.
Ontiveros said his dad and uncle, both Houston police officers, made law enforcement a "family thing," and thus a natural career choice for him.
Ontiveros said that in his youth "I had a lot of contact with officers. It was something I admired and wanted to do, and it just kind of stuck with me."
Ontiveros said one of his most memorable cases was several years ago, when he stopped a car for a minor traffic violation and discovered the passenger was a kidnap victim.
"The driver just knew he was caught, and was acting real nervous," Ontiveros said.
Another memorable case, Ontiveros said, occurred earlier this year when the treasurer of the Mount Muncie Cemetery Association was discovered to have embezzled more than $170,000 from the organization.
Away from work, Ontiveros likes to spend time with his wife and two children, with whom he lives in Lansing. He studies tae kwon do with his 7-year-old daughter and 11-year-old son, who just passed his first-degree black belt test. Ontiveros and his son have studied the martial art for three years.
Ontiveros, who is 34, said he enjoyed the discipline's physical exercise because "at my age, it keeps me in shape." Ontiveros said he also enjoyed learning the history of tae kwon do, which is thousands of years old.