Lunatics among favorites at
USSSA

World Series
Terry Denney almost did a double take when he saw the Lunatics softball team open play Tuesday and Wednesday at the 18-and-under USSSA World Series.
Denney, the Lunatics' coach, absolutely loved what he saw from his squad at Mid-America West Sports Complex in Shawnee. The Lunatics won their first two games in dramatic fashion and earned a No. 1 seed for the bracket play tournament, which begins today.
"(Tuesday) the games were the two most exciting I've ever seen in softball. That's how well they played," Denney said.
The Lunatics' stellar offensive and defensive effort was a major turnaround from Friday, when cold bats and a few fielding miscues led to an early departure from the American Fastpitch Association National Tournament in Lawrence.
At the World Series, both their bats and gloves worked to perfection. The Lunatics opened pool play Tuesday morning against the Lincoln Magic, the top-ranked U-18 team in Nebraska. In the afternoon game, the Lunatics weathered a one-hour rain delay before fending off the Sudden Impact - the No. 1 team from Missouri - 8-5.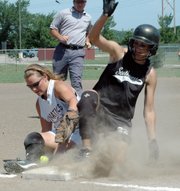 "Defensive-wise, I knew we were going to be just as good as anybody out there," Denney said, "but our batting is what I was worried about the most. Then, when we needed the bats, everybody hit. There wasn't one person in the lineup that didn't get a hit."
The biggest hit of the day may have come from Denney's daughter, Lunatics second baseman and Lansing High School senior-to-be Kasey Denney. She didn't bat during the national tournament last week, but batted in the nine hole on Tuesday. She was standing at the plate with a runner on third against Sudden Impact when rain delayed the game. When the game was resumed, she stepped back to the plate and ripped a base hit that plated the go-ahead run.
"I've got a rule on the field that I play my nine best players in the field and I bat my nine best hitters," Terry Denney said. "Late in the season she went into a slump, and I really wanted to bat her, but I don't play any favorites on this team. This week I decided to bat her and she really came through.
"She probably got the best hit all season long for her, and that really got things going for us because we just kept scoring with two outs."
After the two hard-fought victories Tuesday, the Lunatics already had a No. 1-seed wrapped up for bracket play. Still, they had one more game left in pool play on Wednesday. They dropped a 1-0 decision to the Michigan Explosion, but Terry Denney said he wasn't too concerned because he used the game as a chance to rest some of his pitchers.
He said his players would spend Wednesday evening in batting practice to gear up for bracket play. Given the Lunatics' strong showing in Tuesday's games, Denney said his team should be one of the favorites to win the tournament.
"Now everybody's expecting a lot out of us," he said. "We're looking at possibly winning eight straight to win the whole thing. We're not looking at second, third or fourth place. We're looking at winning the whole thing."