Seniors shine during Zone Tournament
Despite placing third in last week's American Legion Class AAA Zone Baseball Tournament, Lansing Cavalry coach Jake Hanson said he couldn't be more proud of his team.
After all, they played four games in 100-degree weather and never lost their focus. In fact, they only slowed down once heat exhaustion began to set in on Friday in a 15-3 loss to Olathe South.
"A lot of the guys weren't feeling well during the game," Hanson said. "The heat finally got to everybody."
Hanson said a big reason for the Cavalry's strong showing - which included a pair of dramatic victories on Thursday against host team Paola, 9-7, and Blue Valley West, 10-9 in 10 innings - had to do with the leadership of seniors Conn Blakley, Josh Coleman, Lonnie Hansen and Matt Mowery. All four have played with the Cavalry since the team started four years ago, and all four played critical roles at Zone.
Mowery had a solid defensive tournament at first base. Blakley hit well and was effective in relief on the mound. Coleman and Hansen were the heroes against Blue Valley when Coleman earned a one-out walk in the 10th and then came around to score the winning run when Hansen smashed a double into the gap.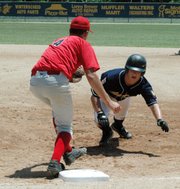 Hanson said it was fitting that the seniors stepped up at Zone because they had the sense of urgency that often comes from players who know their last season is winding down. He said the seniors had been the building blocks for making the Cavalry - and Lansing High's baseball team - successful in recent years, and he said he wasn't surprised with the fight they showed at Zone.
"They've made a ton of improvement and they've been just a great group to have. I couldn't ask for anything more from them," Hanson said of his seniors. "They've all been very positive, and I'm going to hate to see them go. It's been great to take a team from freshman year and just be with them. I know all of the guys are really close - especially those four - and they've developed some close friendships and hopefully this has been a positive experience for them."
Although Zone is over, the Cavalry are slated to play again at 6 p.m. on Aug. 2 at Sportsfield against the Leavenworth Blue Sox. Hanson said he is looking for an opponent for his squad to play between now and Aug. 2 so his team can play more games.
Hanson said he was thankful that Blue Sox coach Mike Kroll agreed to play the Cavalry next week so his seniors could have a final chance to play together.
"I was really thankful for him giving us the opportunity to end something like that," Hanson said. "It's going to be a tough game, but that will give these guys the opportunity to go out on a more memorable note if they can beat a good Leavenworth team."