Lions of all ages reunite
44th annual
LHS

reunion draws more than 190 alumni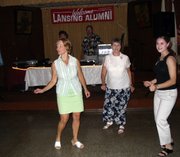 For Lansing High School alumni, Saturday night at the Leavenworth Eagles Lodge was an evening of catching up with old friends and ambling down memory lane with a little help from cocktails and oldies music.
More than 190 members of classes spanning the years from 1930 to 2005 attended the 44th annual reunion dinner and dance at the Eagles Club in Leavenworth. Lansing Alumni Association organized the event.
Mae Florence Stiglmire was the sole representative from the most senior class in attendance, 1930, while several alumni from recent graduating classes showed.
In between, the class most heavily represented was 1975, which class member Frank Nesmith, Leavenworth, said had 20 members show out of a graduating class of 90.
Nesmith said people often asked him how his class managed to stay so well in touch.
"We're pretty tight. We consider ourselves the tightest," he said.
That may be, but the class celebrating its 60th anniversary enjoyed a proportionately greater turnout of alumni: eight members of the nine graduates of the class of 1945 came to Saturday's event.
The class of 1955, celebrating its 50th anniversary, showed up in strong numbers as well: 16 of its 21 graduates attended.
No one from the class of 1985 attended, as those alumni will have their own 20-year reunion Aug. 12 at the Riverfront Community Center in Leavenworth.
While alumni from different eras had different experiences while attending Lansing High, they agreed that the school and the town have changed a lot since graduation.
"It's really grown," said Bill Wenzel, a 1945 graduate, said of Lansing. "It's changed dramatically for the better."
Some said the changes weren't all good, however. Robert Nohrn, class of 1955 alumnus, said, "There isn't anything left in Lansing I recognize. All they did is move the city limits."