Service note: Jeffrey J. Franssen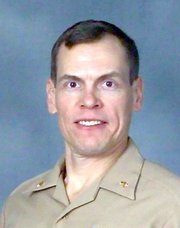 Jeffrey J. Franssen of rural Leavenworth has recently been selected for promotion to the rank of commander in the United States Navy Reserve.
Franssen is a Navy Reserve Intelligence Officer at Offutt Air Force Base, Neb., and an Army Operations research analyst at the National Simulation Center at Fort Leavenworth.
He was recently awarded the Joint Service Commendation Medal for his support to Operation Iraqi Freedom.
Franssen just returned from participating in a joint military training exercise off the coast of Australia, as staff intelligence officer aboard the USS Blue Ridge, flagship for the U.S. 7th Fleet.
Franssen enlisted in the Navy Reserve in 1984 and was commissioned in 1988.
He is a 1981 graduate of the University of Nebraska-Lincoln, with a Bachelor of Science degree in agricultural economics and a teaching endorsement in senior high vocational agriculture.
Jeff and his wife, Sherri, have two sons, Jacob, 10, and Lucas, 3.