Outlaws drop twinbill
Aus, Holland turn in strong performances in pair of losses
Basehor — The Lansing Outlaws showed their share of early season rust Wednesday night as they dropped a softball doubleheader to Komotion, 7-2 and 8-1, at Field of Dreams.
The Outlaws (2-2) were sharp at the plate throughout game one with six hits, but they were unable to string enough consecutive hits together to pile up many runs. They stranded two runners on base during three of the five innings in the game and only plated two runs.
Nicole Holland singled and scored in the third inning for the first Lansing run. Jessica Hauver reached base on an infield single in the fifth and later scored on Jessica Kane's single.
As well as the Outlaws swung the bats, they were far less sharp defensively. Seven errors led to four Komotion runs as Kane didn't receive much help behind her efficient effort on the mound.
Errors continued to be a problem in game two, but starting pitcher Erika Rios didn't receive much offensive help either. Lansing had just three hits - two by Maggie Aus who went 2-for-2 at the plate - and nine defensive errors. Rios threw a four-hitter and allowed just one earned run.
A series of great defensive plays by Aus at third base and a sliding catch in shallow center field by Holland were the defensive highlights of the night.
Photo Gallery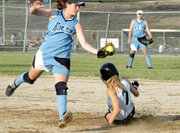 Lansing Outlaws vs. Komotion
The Lansing Outlaws played their second doubleheader of the year Wednesday at Basehor Field of Dreams. The Outlaws lost both games and fell to 2-2 on the season.
Holland joined Aus as the only Outlaw to record a hit in game two. Holland smacked a two-out single in the fourth. Lansing's lone run came in the bottom of the fifth when Aus poked her second single of the game, advanced to second on a wild pitch and later scored on an error when Jessica Stark ripped a sharp ground ball that the second baseman misplayed.
The Outlaws open play in the Field of Dreams Tournament with games at 6:15 p.m. and 7:45 p.m. Friday. The tournament continues Saturday and Sunday.