Cavalry open with sweep of Geiger
McMillin, Stratton, Blakley, Amaral sharp on mound in victories
Lansing High junior-to-be Matt McMillin threw five innings of one-hit baseball and sophomore-to-be Johnny Stratton allowed just one hit in two innings of relief as the Lansing Cavalry won their summer opener 7-0 against Geiger Redi Mix at LHS field.
Conn Blakley and Mike Amaral combined for a three-hitter in game two as the Cavalry won 15-2 in five innings.
It was a solid start to what Cavalry coach Jake Hanson said he hopes will be a very successful summer. His squad was sharp with its bats - Lansing pounded 15 hits and scored 22 runs in the twinbill - and it played good defense all night long.
"I really wanted to see these guys play defense because of how we finished the season," Hanson said. "I think we played flawless on defense, and that was a good confidence booster for me and hopefully for some of these other guys."
After missing the entire summer last year while recovering from a broken leg, McMillin was given the nod to start game one. He did not disappoint. He allowed just one base runner in the first three innings - the result of a walk - and surrendered his only hit with two outs in the fourth on a single to shallow right field.
McMillin retired the side in the top of the fifth before being replaced by Stratton.
"I don't think he wanted to come out after five," Hanson said, "but he's going to do a lot of pitching this year."
McMillin left the game with a cozy four-run lead as Lansing plated two runs in the third and two more in the fifth. Tom Kohl walked and later scored when Blakley's fly ball to left field was dropped. Blakley then scored on a single by Mike Bayless. Cody Mohan and Kohl added the two runs in the fifth.
The Cavalry plated three more runs in the sixth as Jordan Pratt, Amaral and Mohan all walked and later scored. Pratt scored on a passed ball. Amaral and Mohan scored on Kohl's double to center.
Stratton closed out the final two innings by striking out one and allowing just one hit to preserve the shutout.
Photo Gallery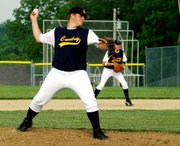 Cavalry sweeps Geiger in opener
The Lansing Cavalry opened their summer season with a doubleheader sweep of Geiger Redi Mix on Thursday evening at LHS field.
The outcome of game two never was in question. The Cavalry erupted to a 4-0 lead in the bottom of the first when Bayless and Kohl led off with back-to-back doubles. Blakley also added a double in the inning.
Kohl tripled and later scored on a balk in the second that gave Lansing a 5-1 lead. Geiger pulled within 5-2 in the top of the third, but the Cavalry responded with nine runs in the bottom of the inning. In all, the Cavalry sent 13 batters to the plate in the inning. Among them was Mohan, who laced a three-run triple and then scored on an overthrow of third. Pratt and Stratton both scored twice in the inning as Lansing went ahead 14-2. Lonnie Hansen scored in the bottom of the fourth for the final run before Amaral closed things out on the mound.
The Cavalry next play at 6 p.m. Tuesday against St. Joe at LHS field.