Strong start leads to fourth-place finish for Eustice
Wichita — Sara Eustice admitted she'd put plenty of pressure on herself when she arrived at Cessna Stadium Friday morning for the Class 5A state track meet.
Eustice, a Lansing High senior, had placed sixth at state in Class 4A in each of the past two years. She didn't want to go home empty-handed during her final trip to state.
"There's always the, 'Well, you did it last year so you've got to do it again,'" Eustice said.
It turned out she had nothing to worry about. She entered the competition with the bar at eight feet. She cleared that on her first try and did the same at eight-foot-six and nine feet. By then the field of 16 had been trimmed in half. When Eustice cleared nine-foot-six on her second attempt, that put her into the final four.
"Consistency is the key," Eustice said, "so I was just really trying to focus and get the least number of misses possible."
Eustice expended some extra energy when she went to run the third leg of the 400-meter relay before trying to vault 10-0. She nearly cleared it on her second try but knocked the bar off.
Eustice said she was sad that her career was over and was disappointed that she was unable to clear 10 feet this season, but she said she was pleased with her career-best fourth-place medal.
"Fourth place is good," she said. "I wish I could've cleared 10, but there's not much I can do about it now."
The fact that Eustice was even out for track this year was somewhat surprising, LHS coach Errol Logue said. He said Eustice came to him in the fall and said she planned to graduate in December.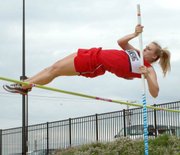 "She was going to graduate at semester and not come out for track," Logue said. "But she changed her mind, and I'm glad she did. Not only was she a great pole vaulter, but she was a terrific team leader."
Eustice's only trip to the medal stand at state was in the pole vault, though. Her relay team didn't advance to finals. She and teammates Natalie Groves, Takeisha Jenkins and Laura Abramovitz placed ninth in the state and were the odd team out for the state finals after a bad handoff slowed them down. They finished with a time of 52.35. Eighth place went to Mill Valley, which ran the race in 51.96.
"I'm glad our relay team even made it to state because that was our major goal," Eustice said. "We just really wanted to come to state. I wish we were still running."
Eustice's athletic career did not end at state. She will attend Washburn University in Topeka this fall and will be a cheerleader for the Ichabods and Lady Blues. She also is considering walking on to Washburn's first-year track team.
"If they have a track program I'm definitely going to get in contact with the coach," she said.