Second by a stutter step
Jenkins collects two state medals, narrowly misses championship
Wichita — One hurdle stood between Takeisha Jenkins and a state championship, but that final obstacle was just enough to keep the Lansing High freshman from becoming the Lions' first female track state champion since 1992.
As Jenkins neared the hurdle, she glanced over her right shoulder at Melesa Johnson of Bishop Miege. Jenkins realized she was leading the pack and just needed to hold off Johnson at the finish.
Instead of letting the race happen, she began to think too much about clearing the hurdle. Jenkins shortened her smooth stride, chopped her steps and carefully hopped over the final hurdle. That was all the window that Johnson needed to slip past and win the state championship in 46.03 seconds. Jenkins crossed the finish line second in a school-record time of 46.10.
"I just was thinking too hard," Jenkins said after the race. "I prayed that God would give me strength, and he did, but I was thinking too much about winning and not about running. That made me stutter-step over the last hurdle."
Jenkins said she was frustrated about letting the lead slip away so late in the race, especially considering she was in the lead all the way down the home stretch.
"I just knew I had it when we hit the last corner," she said. "It's disappointing, but I think I did pretty good."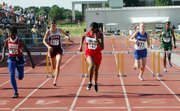 The stutter-step cost Jenkins a state title, but it did little to dampen her spirits regarding her first trip to state at Wichita State University's Cessna Stadium. In addition to her silver medal, she also took home fourth place in the 100-meter hurdles. Her time of 15.55 was her second-best of the year in that event.
"It was exciting because this is what I wanted and this is what I got," Jenkins said of meeting her expectations. "I got some good times and some good places, so I'm happy with that."
LHS track coach Errol Logue also was proud of the precocious freshman and said if she learns to clear hurdles with her opposite leg then her technique would be flawless. That, he said, could make her an even greater force next year. Especially considering she's such a hard worker.
"She's like a sponge," Logue said. "You teach her something and she soaks it up. And she's tremendously levelheaded for a freshman as far as evaluating her abilities and where she should be. A year ago she was running eighth-grade duals, and to be here in front of this and do what she did (is outstanding)."