Turner's career-best good for third
Wichita — Tiffany Turner was unable to achieve her goal of throwing the shot put 38 feet at the Class 5A state track meet Saturday.
Still, the Lansing High senior didn't leave Cessna Stadium feeling at all down about herself. And why should she have? She threw the shot put 39 feet, 2 3/4 inches instead - a mark that was good enough to earn her third place.
Turner launched the career-best throw on her first attempt of the morning, and a look of astonishment broke out on her face as she heard the distance announced. It was 15 inches farther than her previous best mark of 37-11 3/4.
"I threw it, and I was like 'Holy crap, how far is that?' because it was just before the 40 line," she said.
Before Saturday, Turner said 39 feet wasn't even a goal because she thought it was too far out of her range.
"I didn't think I would be able to throw that," she said. "Thirty-eight, 38-4 was my goal, and then I throw, like, a foot farther."
Lansing High track coach Errol Logue said he was ecstatic for Turner, who earned her first state medal in the final meet of her career. She qualified for state last year but didn't bring home any hardware.
"She could've come out here and thrown some 37s, and we'd have said, 'Tiffany, you came up here and did what you do,' and she wouldn't have got (a medal)," Logue said. "But you talk about Cinderella. She got that one good throw. You sit down and write a book, and that's the way the story ends."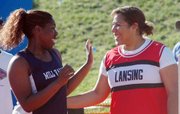 It required a career-best effort for Turner to even make it to the podium. The seventh-place medalist, JoAnn Hamlin of Winfield, threw the shot 38-1 1/2.
"I would've had to PR to even medal," Turner said.
Making the throw even more surprising, Turner said, was the fact that she did it on a morning that was loaded with distractions.
"I forgot my shoes, so my mom had to go buy me some random shoes," she said. "I was freaking out. I was like, 'OK, if I don't do good today, then at least I have an excuse.'"
Rather than making excuses, Turner now is thanking her generic white Nike sneakers with a navy swoosh on the side. She said the nervous tension from forgetting her shoes helped her launch her last school-record throw.
It is likely that her new record will stand for quite a while.
"I'm glad that I threw that far," Turner said. "I'm really excited to see who will break my record at school."