No solace for Lions' Cinderella
Wichita — The first thing you must understand is that they weren't supposed to be here in the first place.
Lansing High's 400-meter relay team of Mike Griffin, Lance Fink, Jeff Slater and E.J. Corinealdi will be the first ones to tell you that. In fact, that was their battle cry throughout their surprising run to the Class 5A track state finals.
"We weren't even supposed to be here, but we came this far in finals," Fink said.
Added Slater: "Two weeks ago we couldn't even medal at our own league meet."
They definitely are right that they weren't supposed to be at state - they finished fifth at regionals before a disqualification bumped them into fourth and earned them a trip to Wichita. That said, this much is certain: They belonged here. And make no mistake, there's a big difference between "being here" and "belonging here."
Whether they fully understand it now or not, the truth is they belonged here. They proved it with the way they ran, with their times and with the fact that they were holding down fourth or fifth place, depending on your view of the stagger, with 150 meters remaining in the state finals.
What we witnessed from Griffin, Fink, Slater and Corinealdi was a relay team that transformed itself from a squad of track Average Joes into serious state contenders in a matter of eight days.
Sure, they came home from state empty-handed after Slater tore his left hamstring while running the final curve, but that should in no way diminish what the fast foursome accomplished. To fully understand just how far they came in the final eight days of the season, one needs to know that the intricacies of sprint relays run deep.
There is more to the 400-meter relay than speed. The Lions lacked the two most critical components to being a successful relay team: camaraderie and good handoffs. For most of the season they didn't run as a cohesive unit and they struggled to make smooth handoffs. As a result, instead of getting faster as the season went on, they actually got slower.
After running a 46.83 in the season-opener at Baldwin, they whittled their time down to 44.95 at the Gardner Invitational. In the weeks that followed, however, the Lions posted times of 45.81 and 45.43 at the Tonganoxie Invitational and Kaw Valley League meets.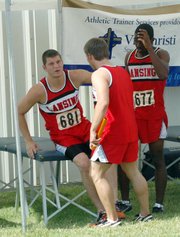 Heading into regionals, they were the No. 6-seed and hadn't run time close to being considered state-worthy. Tired of losing and underachieving, the foursome rallied behind each other, focused on mastering the handoffs taught by sprint coach Kevin Riemann, and for the first time conveyed the attitude that they believed they could win together.
"We became super-close," Fink said. "It's weird because before the season we probably wouldn't have talked to each other much because we do different things, but this relay brought us together. Being underdogs, we had to make a special friendship just to get here and do what we have."
They needed to run the perfect race at regionals to have a chance of qualifying for state. They ran that race, and Corinealdi gave the performance of his life on the anchor leg. In the end, LHS ran a season-best 44.4 - almost a full second faster than its time at the KVL meet. Lansing finished fifth but was bumped to fourth after an opponent was disqualified.
Exactly seven days later, the Lions stepped onto the Cessna Stadium track Friday afternoon as the No. 12-seed out of 16 teams in the state preliminaries. They nearly matched their regional time - they ran a 44.46 in the prelims. Slater caught a runner on the final curve, and Corinealdi streaked to the finish line. Their time, paired with another disqualification, earned LHS the eighth and final slot in the state finals. Suddenly, the squad that "wasn't supposed to be here" was one race away from winning a state medal.
Little did the Lions realize their Cinderella run was about to end.
Griffin, Fink, Slater and Corinealdi warmed up for the finals Saturday afternoon with extra bounce in their steps and a little more swagger. There wasn't any cockiness, but there was a definite confidence brewing among the group of party crashers. There were state medals for the taking, and they were ready to get theirs.
"I could feel the medal in my hand," Corinealdi said.
Corinealdi's chest was out and his head high as he marched to his position at the final exchange zone prior to the race. Slater's eyes were narrow with intensity. Griffin and Fink bowed their heads to meditate. All four were focused and ready.
As the gun went off, Griffin burst from the starting blocks as quickly as he ever had. He gobbled up the curve and made a smooth handoff to Fink. Although not the quickest runner, Fink ran his best leg of the season and didn't relinquish any ground on the backstretch.
"Our first leg and our second leg ran very good. I think that was their best race ever," Corinealdi said, describing his view of the race as he waited for the baton as the anchor leg.
Fink made a good handoff and Slater began to roar around the final curve. He was in fourth or fifth place and wasn't far behind third when he felt a sharp pain shoot through his left leg - a hamstring tear.
The Lions were running their best race of the year for a third straight time and a state medal was just 150 meters away when everything stopped. Instead of getting the baton and galloping down the home stretch, Corinealdi trotted back around the curve to help his ailing teammate. Instead of jubilation, there was anguish and sadness for an injured teammate. The final team huddle wasn't at the finish line or on the medal stand. It was in the medical tent.
In a way, perhaps it was appropriate that the LHS 400-meter relay team didn't win a state medal because, like they said, they weren't supposed to be here in the first place. Still, don't expect that to ease their anguish one bit. Once they arrived at state they discovered that they weren't luck to be at state - they belonged here.
Their challenge now is to do it again. Given their new dose of confidence, there is good reason to believe they will be back in 2006.
"Our luck just ran out," Corinealdi said. "But we're going to be back next year. We are coming back."
Chris Wristen's column appears occasionally in print and can be found online weekly on the lansingcurrent.com blogs page.