Lansing Intermediate teacher wins Golden Apple Award
Leavenworth — Golden Apple Awards aren't edible, but to a teacher, they can mean more than a student's gift of fruit.
At Saturday's Legislative Wrap-Up Breakfast hosted at the Riverfront Community Center by the Leavenworth-Lansing Area Chamber of Commerce, three area teachers were awarded with Golden Apples for excellence in classroom education.
Cathy Smith, an art teacher at Lansing Intermediate School and Lansing High School, was one of the award recipients. Lansing Intermediate School principal Jan Jorgensen's nomination letter said Smith was "constantly looking for new ways to reach out to her students and to make the curriculum more interesting and responsive to her students."
Smith said she was "thrilled" when she learned a week previous that she would be so recognized.
But, Smith said, "I think there's a lot of teachers who deserve the award."
Cited in Jorgensen's nomination of Smith was her initiative in learning about South Asia when her high school students began peppering her with questions about the region and its people a few years ago. Smith took a class at Kansas University to learn more and eventually was awarded a fellowship from the Freeman Foundation to study in China and Japan.
The materials and stories Smith brought back, Jorgensen wrote, were "truly appreciated by her students."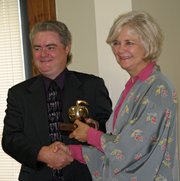 Smith also took it upon herself to conduct an arts workshop at the Carnegie Arts Center to share her knowledge with other teachers.
On her travels in Asia, Smith said she "realized how important it is for our kids to learn about China and that our school district should consider offering Chinese, because I think it's becoming a world power."
Thanks in part to Smith, beginning with the 2007-2008 school year, Lansing High School will participate in an exchange program with China for up to 10 students per year. Smith is also lobbying the district to offer Chinese language classes.
The chamber awarded two other teachers with Golden Apples on Saturday: Delores Kinsey of Immaculata High School in Leavenworth, and Sandy Lowry, of General MacArthur Elementary School in Leavenworth.