DAZE

begins today
Droves expected ffor citty's annual summer festival
Lansing — After meeting since January, the organizers of this year's Lansing DAZE festival are more worried about the one factor they can't plan or control.
The weather.
"There's a lot of time and work that goes in to planning this, so we are just hoping the weather will be nice for the weekend," Shanae Randolph said. "Last year we had awful weather."
Randolph is the director of Lansing's Economic Development/ Convention and Visitors Bureau and played an integral part in the organizing of this year's festival, which kicks off today with a golf tournament at Leavenworth Country Club and carnival rides near City Hall. The annual festival continues through Sunday.
Randolph helped plan new events such as a barbecue contest, pet parade and the Spirit of Lansing contest, but she had a whole lot of help.
"We have a committee made up of some community members and city staff that have been meeting since January to plan the event," she said. "Our department organizes the event, but all the city departments come together and organize some part of it."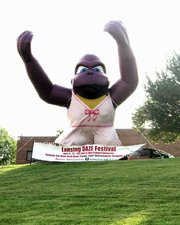 Beginning in January, the committee met every other week and started meeting weekly in May, Randolph said.
Mayor Kenneth Bernard said the committee worked harder than ever this year. He said he thought planning gets better every year.
"It's always difficult when you're doing something this large, but they're doing a great job," he said. "I expect everyone will enjoy themselves when they see the kind of festival they can provide."
Bernard is a member of the festival committee, but he said he was mostly an observer and supplier.
Lorraine Gluch, economic development/CVB assistant, had a more hands-on approach as she started organizing this year's barbecue contest in early May, and said planning the event has been a race against time in the past few weeks.
"I attended another city's barbecue contest just to see how it was set up," Gluch said. "I found out there's a lot you can do in a barbecue contest, and we decided we were only going to do the competition part of it."
Nonprofit organizations and local businesses are also key parts of the Lansing DAZE planning process.
For example, groups like the Kiwanis Club, Lions Club, Lansing Alumni and Lansing Historical Society sponsor events every year.
Business such as Greenamyre Rentals, the Leavenworth Special Education Co-op, Overlook Restaurant, and Associates and Family Healthcare allow Lansing DAZE to use their parking lots and utilities.
"Without our businesses supporting the event and everyone coming together, this event would not be possible, she said."
The Lansing school district also helps the cause.
She said the festival wouldn't be possible without Dale Bohannon, director of building and grounds for the school district.
"Every year he has helped us tremendously," she said. "Again, he's one of the many that makes this thing happen."
Last year between 6,000 and 8,000 attended Lansing DAZE, and if there is no rain that number will increase this year, Randolph said.