Lansing juniors attend Girls State
Lawrence — While most girls their age are off enjoying their summer vacations this week, Lansing High seniors-to-be Megan Logan and Rachel Darrow are adhering to the highly structured regimen of Sunflower Girls State.
The weeklong camp, held at the University of Kansas, teaches some of the state's brightest future high school seniors exactly how a democratic government works.
Logan and Darrow were able to attend because the Byron H. Mehl Auxiliary Unit of Leavenworth sponsored them.
The girls' daily schedule includes waking up at 5:30 a.m., creating a mock government, writing bylaws, studying, taking tests, running for political office and a whole lot of cheering.
"When we walk anywhere, we have to cheer the whole way there, while walking in two straight lines," Darrow said of the trips, some of which take more than 20 minutes. "It's amusing but not so much fun at 6:30 in the morning."
If the girls choose not to cheer, they run the risk of losing points for their city, which can hurt when it comes time to campaign for offices.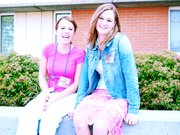 The campers are split up into 16 cities and eight counties, according to which floor of Ellsworth Residence Hall they live on during the week. Logan is a member of Cheyenne city and Delaware County, while Darrow belongs to the city of Apache and Cimarron County.
Each city and county has its own government, with girls campaigning for positions from governor all the way down to county sheriff.
Campaigning is a challenge, as there is not enough time to actually create a platform and debate ideas. Instead, it comes down to who the most creative person is.
Girls do everything from making hats out of cardboard to wearing giant signs to let others know what they're running for.
Logan decided to go conservative in her quest for a House of Representative position, creating a small sign to hang around her neck asking others to vote.
Darrow came up with a campaign slogan in hopes of becoming Regent of Deeds.
"If you want someone that cares a ton, vote Rachel Darrow for Regent of Deeds. She'll get 'er done," Darrow said before Logan quipped that the phrase was too long to fit on anything short of a full-size billboard.
Logan and Darrow said they were good friends and spent the little free time they had at the camp together.
Regardless of their busy schedules and pressure of running for office, Darrow and Logan both said they were enjoying their time at Sunflower Girls State, which wraps up Friday with a trip to the state Capitol.
Logan said she came to the camp because her grandfather wanted her to and said she was looking forward to visiting with state politicians in Topeka.
"I think we'll learn a lot when we go to the Capitol," she said. "We'll actually get to go in and watch their session, then sit down and have our own and run it like it's real life."
Darrow said she had to leave the camp early to play in a basketball tournament in Wichita and would not be able to go to Topeka.
Despite the early exit, she said her goals of meeting new people and learning more about the government process were reached.
"I don't know that I will ever run for a real political office," Darrow said, "but I think I will understand it more and be better prepared for election day when this is over."