LHS

Leadership Council getting sponsor change
Lansing — He remembers the students' faces, but the years they were in school aren't so easily recalled.
So when Lansing High School history teacher Kevin Riemann is asked when he first began sponsoring the school's Leadership Council, he defers until the end of the interview.
When the questions are finished, Riemann leaves his classroom, goes down the steps, crosses through the school's commons area and heads to the east end of the high school. There, looking up at the class pictures hanging on the wall, he sees the faces of the students in that first Leadership Council.
"1996," he says. "It was the Class of '96 - the '95-'96 school year was the first year."
The Class of 2005 will be the final Leadership Council for Riemann. After nine years - he took a year's sabbatical from the sponsorship when one of his sons was a freshman - Riemann is giving up sponsorship of the group originally made up of officers from the Student Council and freshman, sophomore, junior and senior classes.
In the years since 1995, student leadership at Lansing High School has undergone a huge transformation, Riemann said.
"It used to be typical high school stuff," he said. "Pop machines and prom, and that was about it."
But a challenge those many years ago by then-Principal Rita Greenamyre changed all that. Greenamyre wanted to see more from the student leaders, especially in school and community service. Plus, she wanted such service activities to involve all students - not just Student Council representatives and class officers.
She turned to Riemann, the sophomore class sponsor at the time, to help.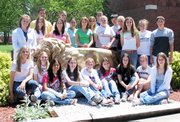 "If you want to see some things these kids area capable of," Riemann recalled Greenamyre saying, "let them do something." With that, Leadership Council was begun at LHS with Riemann its first sponsor.
Micah White, this year's senior class president and a three-year member of the Leadership Council, credits Riemann with making her a better leader and a better person.
"He's very inspiring. He knows a whole lot about leadership," she said.
This year's Leadership Council was busy as ever. Among its activities, the group:
¢ Organized the school's first-ever Late Night for Leukemia fund-raiser, which brought in more than $5,500 for leukemia research
¢ Arranged the annual Trick or Treat for Kids, which drew about 500 children to the high school
¢ Organized the annual Seniors Thanksgiving Dinner for more than 100 elderly Lansing residents and raised more than $500 to purchase turkeys for less-fortunate families in the community
¢ Sponsored car washes to raise money for cancer research
¢ Planned the commencement ceremony
¢ Made monthly visits to patients at the Veterans Affairs Hospital
¢ And, of course, organized prom.
One of the group's biggest problems, Riemann said, is that most of what the students start is so wildly successful it is difficult to add activities from year to year.
"The work they've done," Riemann says of the Leadership Council, "is just absolutely amazing."
To hear Riemann tell the story, it's the students who do it all.
"It's so rewarding for me; I can sit there and not say a word and watch what they do," Riemann says of the students who are in his lunch-hour Leadership Council class, which meets daily throughout the school year. "Once they start something, you absolutely start believing they could do anything."
White, who as senior class president had a lot of interaction with Riemann, heaps praise on the sponsor.
"He does a whole lot : more than anybody would think," White said.
When school begins in August, Leadership Council will have a new sponsor: LHS math teacher Sarah Wise.
Riemann will continue at LHS - in addition to teaching, he's still the sophomore class sponsor and is an assistant track and football coach. But, he says, it's time to hand off the Leadership Council baton.
"It's not burnout," he said, "but there are some things you have to sit back and enjoy."
He's got two children still in the Lansing school system, and, unlike his oldest boy, they are into activities other than athletics.
"They're starting to do their own things, and I don't want to miss that," he said.
White said she wasn't surprised that Riemann was giving sponsorship of the group.
"He has family commitments, and he does do a lot. He's got his coaching leadership, he's involved in KNEA, and you always see him everywhere," White said.
Riemann says he's confident Wise will be a successful sponsor; after all, she was a co-sponsor this year and is an LHS graduate and a Leadership Council alumnus.
In the end, though, it's not the sponsor who makes the difference, Riemann said. It's the students.
He illustrates his point with a talk he overheard during the waning days of school this year between White and the Leadership Council underclassmen about their responsibility next year.
"I heard her say," Riemann said, "'The most important thing to remember is when Mr. Riemann wants to talk you out of an event, you tell him to forget it. He just wants you to step up to the plate and work harder. You tell him he's wrong, you're right, and then go out and show him.'"