Area businesses reap awards from state
Kansas City, Kan. — Four Lansing companies were among those honored Tuesday by the Kansas Department of Commerce.
The department honored businesses in east central Kansas for their contributions to their communities and the economy. The Kansas Business Appreciation Month East Central Regional Awards were handed out during a program at the James Reardon Center in Kansas City, Kan.
Four Lansing companies and one Leavenworth business each were recognized with merit awards in the service category. These companies were Associates in Family Health Care, Dick Cameron Insurance Agency Inc., Holiday Inn Express Hotel & Suites, Larkin Excavating Inc. and Greenamyre Rentals Inc.
Dick Cameron, owner of the Lansing insurance agency, said he enjoyed giving to the community "because it's been so good to me and my business."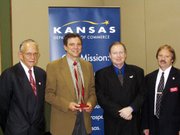 Duaine Tewes, chief estimator for Larkin Excavating, said winning the award felt especially good "because it comes from local people. Local groups nominated us for the award."
The groups responsible for nominating Lansing businesses were the Lansing PRIDE committee and the city of Lansing.
In the retail category, Lansing's Pizza Hut was recognized with a merit award.
Chuck Morrison, general manager of the Pizza Hut, said one of the best reasons for companies to give back to their communities was that "you get a sense that you're doing something worthwhile."
WKRP, which owns the Pizza Hut, supports local sports teams and various high school programs such as "Book-It," which challenges students to read more.
Cameron's agency sponsors, among other community events, Lansing DAZE and the Lansing Historical Society's annual 5K run.
In other categories, two Leavenworth companies, Zephyr Products Inc. and Cereal Ingredients Inc., each won a merit award in manufacturing.
Leavenworth-based Marlow White Uniforms Inc. received the regional award in the distribution category.
The World Company, which publishes The Lansing Current and other area newspapers from its base in Lawrence, also was recognized with a merit award in the manufacturing category.