Cavalry defined by toughness
Cody Mohan made it clear after the Lansing Cavalry rallied for a doubleheader sweep of St. Joe on Tuesday night that he and his teammates don't want their identity to be that of a come-from-behind team.
Fair enough. But how about being identified as a tough team?
"Exactly," Mohan said. "We want to be the team that is there to beat, or if you're up you have to keep us down, because we're going to come back."
Through their first four games, the Cavalry (4-0) have proven they can whip teams from the beginning - as they did in thrashing Geiger Redi Mix 7-0 and 15-2 on Thursday - or by winning in their final at-bat, as they did in the sweep of St. Joe, 11-10 and 9-8.
Cavalry coach Jake Hanson praised his players' effort in winning both ways. Of the early victories, he said he was most proud of the wins Tuesday night because his squad had to work harder and overcome mistakes to win.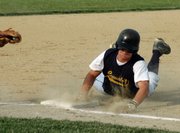 "We're still making some errors in the field," Hanson said, "but it seems like we're making up for it with the hustle plays. Some of these guys look like they're finally doing a lot of the little things to win ball games."
Those "little things" include runners taking the extra base when it becomes available, which Tom Kohl, Josh Coleman and Mike Bayless did frequently against St. Joe, and laying down timely bunts. It also means having the bottom of the lineup contribute as successfully as it did Tuesday when Johnny Stratton, Coleman, Jordan Pratt and Lonnie Hansen combined for eight hits and seven runs during the twinbill.
"If our bottom of the lineup can contribute like that," Hanson said, "we're going to be tough. And they don't have to drive gaps, but just find ways to get on base."
If those four can reach base frequently, that could lead to a lot of runs because the top part of the Cavalry's lineup has swung hot bats as well. Bayless, Kohl - a former LHS standout and current Morningside College Rookie of the Year, Cody Mohan and Conn Blakley have combined for 29 hits through the first four games.
All of those hits and a perfect record have put the squad in good spirits, Hanson said.
"They seem like they're having a heck of a lot of fun," he said, "and that makes me happy."