Return of the Mac
McMillin better than ever since return from broken leg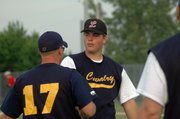 Matt McMillin's dominating performance on the mound Thursday during the Lansing Cavalry's season-opener was unexpected for a number of reasons.
It'd been a while since Cavalry coach Jake Hanson hadn't seen McMillin throw in a game. It also was his first appearance as a member of the city's AAA American Legion baseball team.
The most surprising aspect of McMillin's appearance, however, may have been the simple fact that he was pitching at all.
McMillin, who will be a junior at Lansing High School in the fall, broke his right leg during a junior varsity baseball game his freshman year. For a while it looked like he might never play again.
But here he was, one year later, mowing down hitters one by one and guiding his team to victory. Cavalry coach Jake Hanson wanted to see McMillin throw, and the young hurler rewarded him with a five-inning, one-hit effort in a 7-0 victory.
"It was kind of jittery, McMillin said of his feelings on the mound. "I was all shaky because I was playing with the varsity (players). It was a big confidence booster too, especially when coach has that much faith in your pitching."
It was the first of what McMillin hopes will be many great performances at LHS field now that his leg is healthy again.
COLLISION COURSE
At the time, it seemed like the most devastating words Matt McMillin had ever heard.
The doctor walked into the hospital room, looked at McMillin - then a freshman - and uttered the phrase, "You might not be able to play sports again."
McMillin was devastated.
Just a few days earlier he'd broken his right leg in two places during a junior varsity baseball game against Santa Fe Trail. He was on the mound when a passed ball skipped past the catcher. McMillin ran to cover the plate. The catcher flipped the ball to McMillin in plenty of time to tag the runner.
"He was out by a mile," McMillin recalled," so you know what everybody tries to do. They try to bulldog you."
The SFT runner lowered his shoulder and plowed into McMillin's right leg. Fans and teammates still recall shuddering when they heard the bone crack.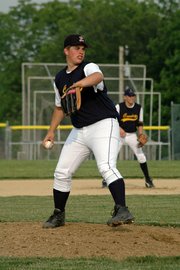 "My leg was crooked. It wasn't facing the right way," McMillin said. "They said I tried to stand up. I was in instant shock."
Reflecting on the collision that almost cost him his baseball career, McMillin said he holds no hard feelings toward the player who took him out.
"I don't know if he intended to (hurt me)," McMillin said of the collision. "I talked to him later, and his parents were really nice about it. They said they were praying for me, so it's cool."
Although McMillin was quick to forgive, his leg didn't heal nearly as fast. He had two surgeries on his leg - one on the night of the accident. He was on crutches for more than three months, missed about three months of school and was mostly confined to his bed.
Fortunately for McMillin, he is a serious student and his grades were good. As a result, he didn't fall behind his classmates
In the fall he was able to pick up where he left off academically, but athletically he had fallen behind.
REHABILITATION
Instead of giving up when the doctor suggested his playing days were done, McMillin used those words as motivation. He never went through therapy, but he did rigorous rehabilitation on his own.
He played basketball on a city league team, went to the gym and did flexibility drills with an apparatus that resembled a large rubber band.
Eventually, his leg got stronger and he got back in shape. Just in time for baseball.
A note from LHS head coach Terry Stueve summed it up: "Matt has been doing everything he was doing last year, except with a titanium rod in his leg."
Well, almost.
McMillin was doing everything and them some. He wasn't just pitching. He was pitching successfully. He wasn't bringing blazing heat, but his control made him effective.
"I built up a lot more confidence coming back when everyone said I probably wouldn't come back," said McMillin, who posted a 3-1 record as a starter. "That was such a big confidence booster. I cam back and gave it my all."
busy summer
As McMillin strolled to the Cavalry dugout after the fifth inning Thursday, Cavalry coach Jake Hanson slapped him on the back and wore a smile from ear to ear.
"He struck out more guys that I thought he would strike out," Hanson said. "I didn't expect them to hit him all that hard, but he did exactly, if not more, than what we expected.
"I don't think he wanted to come out after five," Hanson added, "but he's going to do a lot of pitching this year."
McMillin said he would see plenty of innings on the mound while throwing for both the Cavalry and the Lansing Reds, a Class A American Legion team. In fact, he tossed a three-hitter for the Reds on Monday evening, but defensive errors led to a loss.
Still, McMillin wasn't discouraged by the defeat, and he's looking forward to improving throughout the summer. His teammates are also excited about what the future holds for the right-handed pitcher.
"I only see him getting better," Cavalry catcher Lonnie Hansen said. "After what happened last year with the leg, he's surprised everybody. He's a miracle kid and he's really stepped it up. He's pitching with the big boys now, and he's holding his own."