Slammers dominate at state
Local wrestling club garners 12 championships
Thirteen local wrestlers competed Saturday in the USA Wrestling Kansas State Tournament.
Coming off a stellar winter season, the Slammers continued to display their talent by winning 12 individual championships. Five wrestlers qualified for the Cadet and Junior National Tournament in Fargo, North Dakota.
The state tournament featured the two Olympic wrestling styles: Freestyle and Greco-Roman. While Freestyle is similar to American Folk style/collegiate wrestling, Greco-Roman is not. In Greco-Roman, wrestlers are not allowed to attack legs or use their legs to defend or attack.
The tournament began with Greco-Roman in which the Slammers won seven titles and two second-place finishes. Pleasant Ridge's Jared Johnston (8-and-under/87 pounds) started the Slammers off winning his finals match 9-3. In the 10-and-under division, Jack Wood (70 pounds) of Pleasant Ridge and Bo Pursel (75 pounds) of Leavenworth both went undefeated and won their bracket. Pursel, a three-time defending champion, won a hard-fought 11-6 match over Manhattan's Zeck Vesta in the finals. Schoolboy division (12-and-under) Taylor Baughman (112 pounds) of Pleasant Ridge also went undefeated and earned the Slammers their fourth state title of the day.
Spencer Blue (90 pounds) of Leavenworth placed second in his Schoolboy division bracket. Blue won his first two matches by technical fall before losing to WHY Wrestling Club's Dylan Penka in the finals.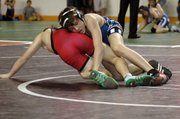 Leavenworth High School's Aaron Ely (105 pounds) continued the Slammer's winning streak in the Cadet (High School 15-and-under) division. Ely, fresh off a national championship victory at the Brute-Adidas High School Nationals in Lincoln Nebraska, won all of his matches by technical fall or pin. Ely capped his final Greco-Roman victory against Silver Lake's Collin Haze with a five-point throw.
"Five-point throws are awarded very rarely," said Slammers coach Mike Flynn. "The opponents feet must go above the thrower's hips, plus the opponent must land on his back. The official gives the wrester three points for exposing his opponent to danger, one point for the lift, and one point for appreciation. Basically, a five-point move means one sweet throw!"
Pleasant Ridge High School's Dennis Wood (84 pounds) and Lansing High's Nick Flynn (119 pounds) also put in strong performances. Wood placed second. Flynn lost his first match to Salina's Nick Peterson, but came back strong to win his next two matches and secured second place in his weight class. Leavenworth High wrestlers Phil Witt (140 pounds), Brandon Mulcahy (152 pounds), and Bret Johnson (189 pounds) each fell one match short of placing.
In the Junior Division (High School 19-and-under), Lansing High's Sean Flynn (140 pounds) and Leavenworth High's Alex Manegro (189lbs), each went undefeated, bringing the total number of Slammer Greco-Roman champions to seven. Sean Flynn, who recently battled to fourth place at the Brute-Adidas High School Nationals, continued to demonstrate his talent. He started the day off with a 16-second pin, followed by a technical fall in his second match. In the finals, he faced off against Manhattan 6A High School State runner-up and Fargo All-American Aaron Bingham. Down 0-6 in the first period, Flynn attacked with a flurry of moves in the last 12 seconds. Flynn secured an under hook and threw Bingham to his back in the final seconds for a pin, earning Flynn his third straight state title.
The Slammers continued their dominance in the afternoon Freestyle tournament. In the younger divisions, Jared Johnston, Pursel, and Baughman all won their brackets. Jake Wood and Blue both took second. Ely and Nick Flynn kept the Cadets alive with Ely winning three matches by fall for his third state title. Nick Flynn went 2-2 and placed third. Manegro won both his matches by technical fall and earned his second state title of the day. Sean Flynn placed second in Freestyle, winning his first match by fall, second match 10-8 and losing a tight match to Goddard High's Chase Moses 10-9 in the finals.
The Slammer Wrestling Club will continue to practice through July as wrestlers attend the different Team Kansas Camps and National tournaments. Pursel and Witt will head to New Mexico next week for the School Boy and Cadet Southern Plains Regional Championships. Ely and Nick Flynn will wrestle with Team Kansas at the Cadet National Duals in Kansas City. Ely, Manegro, and the Flynn brothers will end the season with Team Kansas at the Cadet and Junior National Tournament in Fargo, North Dakota, the end of July.