Gary Ely is certain the Tri-City Golf Championship is something the Lansing-Leavenworth-Fort Leavenworth area has needed for a long time.
Now that it's here, Ely is proud to be the tournament's first champion.
Playing on his home course, Ely scorched the fairways and greens of Trails West Golf Course on Fort Leavenworth for an opening-round score of 72 on Saturday. He followed that with an 80 on Sunday. His two-round total of 152 earned him the title by four strokes over second-place finisher Jeff Plemmons. Dave Ristedt was third with a 157. Chase Day placed fourth with a 162.
"This is something that I will always cherish in a way," said Ely, a four-time club champion at Trails West. "It's wonderful to be out there and do what you need to do to try to win at something that you care so much about. I can't tell you how much I feel for the game of golf."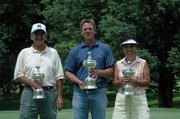 Bob Hovey was the inaugural champion in the seniors' division as he edged Rick Fernengel by one stroke with a two-round score of 166.
"I had to bogey," Hovey said of what it took for him to pull away on the final hole of what had been a close match throughout.
Judy Zell won the women's division with a 164, 20 strokes ahead of runner-up Crystal Middlekamp.
Division winners received a $100 prize, second-place finishers received $75, third-place earned $50 and fourth-place won $25.
Twenty-nine golfers made up the inaugural field for the Tri-City Championship. Mark Germonprez, the tournament organizer and Trails West manager, said he had hoped to have at least 60 players for the first tournament, but said he knew of numerous players who were out of town during the weekend of the tournament. That may have contributed to the smaller field, but he said he was confident it would grow in the future.
"But I don't see how it can't grow," he said. "Once we get it out there and get some publicity and everyone can see that it is a good event, to be in a competition like that I think will help a lot."