Unwelcome visitor
Truck crashes into house on Holiday Drive
Lynn Driscoll and her grandchildren had their card game crashed - literally - by an unwelcome visitor Friday at her Lansing home.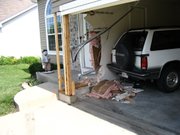 About 9 p.m. Friday, Driscoll was playing cards with her two grandchildren in the living room of her home at 705 Holiday Drive when the evening quiet was broken by a pickup truck that smashed into the house's front door.
The one-ton, dual-wheeled Dodge pickup smashed the screen door, spraying broken glass through the open front door and onto the living room floor. The truck had taken out the corner of the garage next to the front door and was brought to a stop by the door's cement stoop.
No one in the house was injured in the accident.
"I had a panic attack," Driscoll said. "Had he missed the front porch, he would have killed all of us."
Driscoll and her husband, James Driscoll, said that if the truck had been another foot to the left, it would have gone through the living room window and hit the couch where one grandchild was lying.
When police officers arrived, the driver, Thomas Brooks, 26, Leavenworth, was still at the scene but refused medical attention. Police found a white powdery substance in the pickup they believed to be cocaine; the substance has been sent to the KBI lab for further testing.
Brooks was arrested and has since been charged in Leavenworth County District Court with driving under the influence, reckless driving and possession of narcotics.
When Brooks' truck hit the garage, it hit the Driscolls' S-10 Blazer parked inside, which then pushed James Driscoll's Harley-Davidson motorcycle - parked in front of the Blazer - into the adjacent wall. The motorcycle's handlebar punched through the drywall and cracked the interior wall of the Driscolls' laundry room. Brooks' truck also took out the post on the front stoop.
After the wreck, firefighters who arrived at the scene built temporary support beams out of two-by-fours to replace the garage corner destroyed in the crash.
Lansing Police Chief Steve Wayman said, "It was a bad situation, but it could have been a lot worse."
Police were deferring to insurance estimators for a damage estimate to the house, garage and contents.
"There are some interior doors that wouldn't open," Wayman said. "It sounds like there'll be some significant structural damage."
Officers still are trying to piece together what happened and determine the speed at which Brooks was driving.
"We don't know if he failed to give full attention or what," Wayman said. "There was some definite impairment to his ability to operate a vehicle."