Great day for golf
Golf tourney provides sunny start to
DAZE
Sunny skies, a few cold bottles of beer and an afternoon off work were plenty of incentive for 88 golfers to pack the fairways and the rough of Leavenworth Country Club on Thursday for the third annual Lansing DAZE Golf Tournament.
All in all, it was a perfect day for golf, and local players jumped at the opportunity to hit the links.
Those players included Paul Fladung, Chris Hoins, Travis Stafford and Scott Fladung, who teamed to win the tournament with a score of 53 under the four-player, best-ball format competition.
Second place went to Pete Payne, Rick Kimbrough, Dale Wintroub and Mike Wood who shot a 54. The third place team was Jon LeBar, Chuck Baines, Todd McBroom and Chris Chiles who also shot a 54.
As the tournament was about to begin, it appeared as though thunderstorms might wash out the tournament. In fact, it was enough of a concern for Mayor Kenneth Bernard to encourage the players to "Play well, and play fast."
Most players abided by Bernard's last two words, but not necessarily the first two.
Clouds lingered over the course for the first 30 minutes of play, and even a few light sprinkles fell as golfers played their first hole, but soon the clouds gave way to blue skies for a full afternoon of golf.
"I knew it wasn't going to rain," Paul Fladung said of his weather projection. "I put an umbrella in my golf cart. Therefore, I knew it wasn't going to rain. If I didn't have it, it would've rained."
It was a good thing the weather held off for the winning foursome, because the comfortable afternoon allowed them to play some pretty serious golf. They drilled tee shots and sank putt after putt.
"This guy didn't miss a putt," Stafford said, pointing to Hoins, whose short game helped lock up the title.
Photo Gallery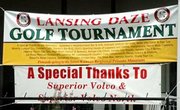 Lansing DAZE Golf Tournament
The Lansing DAZE Golf Tournament went off without a hitch as sunny skies cleared the way for a fun afternoon. Here are scenes from the day.
Still, as good as it played, the winning team said it still could've put up a better score if a it had played just a tad bit better.
"We made two pars instead of shooting a 51," Stafford said, recalling a pair of missed birdie opportunities.
So, what exactly was their key to success Thursday?
"We're all previous members (of Leavenworth Country Club)," Scott Fladung said, "so we all know the course pretty good."
Hoins, Stafford and the Fladungs weren't the only winners Thursday, either. They each won a gift certificate to the Leavenworth Country Club pro shop for winning the tournament, but as part of the tournament's format, a prize was attached to every hole so golfers could compete for additional prizes throughout the day. For example, on hole No. 1, the person closest to the pin on their second shot won a golf bag. On hole No. 11, the person with the shortest drive won a $30 gift certificate. There also were raffle prizes. In addition, the team with the worst overall score won four sleeves of golf balls - presumably to be used to practice for next year's tournament.