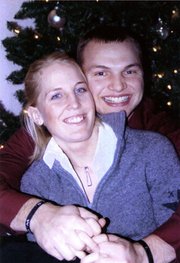 Stephanie Lynn Williams and Davis Garth Hodam announce their engagement to be married July 30 in Lincoln, Ill.
Stephanie is the daughter of Tom and Mary Williams of Grant, Mich. She is a 2001 graduate of Grant High School and a senior at Lincoln Christian College in Lincoln, Ill., majoring in early childhood education.
Davis is the son of Rick and Janie Hodam of Lansing. He is a 1999 graduate of Lansing High School and a 2003 graduate of MidAmerica Nazarene University in Olathe with a bachelor's degree in religion and an emphasis in pastoral ministry. He was ordained at Wallula Christian Church in July 2004 and is currently the interim pastor at Wallula. In August, he will begin his final year in the Master of Divinity program at Lincoln Christian Seminary in Lincoln, Ill.