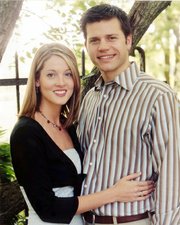 Erin R. Young and John R. Maslowski, both of Milwaukee, announce their engagement.
The bride-to-be is the daughter of David and Wanda Young, Lansing. She is a 1998 graduate of Lansing High School and a 2002 graduate of the University of Kansas. She is art director for Curro, Rankin and Williams Advertising.
The future groom is the son of Richard Maslowski, Glendale, Wis., and Carla Pellin, Mequon, Wis. He is a 1995 graduate of Nicolet High School and a 1999 graduate of University of Wisconsin-Madison. He is director of strategic planning in mergers and acquisitions for Roundy's Supermarkets.
The couple plan an Oct. 29, 2005, wedding in at Visitation Catholic Church, Kansas City, Mo.