Rain can't dampen
DAZE

success
Festival organizers say event attracted 6,000 people
Lansing — All week long, City Administrator Mike Smith has received letters, phone calls and office visits complimenting him on last weekend's Lansing DAZE festival.
He said he was thrilled about the feedback but hoped the plethora of other organizers and volunteers that helped plan the festival were getting the same kind of recognition.
"Lending the helping hand is what makes Lansing DAZE successful," he said. "Hats off to the rest of my staff and all the volunteers. This year was even better than last year."
Smith gave special credit to organizers Shanae Randolph, director of Lansing's Economic Development/Convention and Visitors Bureau, Lorraine Gluch, Randolph's assistant, and Lansing School District.
Randolph, who started organizing the festival in January, said she was relieved to finally get a break from planning and was glad to see everyone's hard work pay off.
"We were very happy with the festival," she said. "Our new events were very successful. Everything went real smooth there. We actually already have a list of people that want to compete in next year's barbecue contest."
The only complaint anyone seemed to have was about the rain that plagued the festival.
"I can control most things in Lansing, but I can't control that," Smith said. "Ninety-nine-point-nine percent of people are pleased with the way we handled it."
Mayor Kenneth Bernard said he was at every minute of the festival and thought the weather didn't hurt most areas.
In fact, he said the biggest crowd he'd ever seen showed up for Saturday night's fireworks show.
He said the carnival was hurt more than anything else by the weather. It pulled up stakes early and left overnight Saturday.
Photo Gallery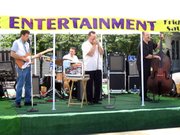 Lansing DAZE scenes
Despite rainy weather, organizers say the 2005 Lansing DAZE festival exceeded their expectations. Here's a look at some of the scenes.
"I think the rain definitely hurt the carnival's attendance," he said. "Other than that, I have no complaints."
The festival did so well that Smith thought a larger area of land might be needed for future festivals. He said some vendors were placed on a waiting list for this year's festival because there wasn't enough space to accommodate the high demand.
"We're growing so fast," he said. "A lot of our vendors come from out of town now. They like the way we do business, and they're coming back."
"Some day I hope to have the festival at the new 127-acre parkland we bought a few months ago," Smith said.
The only problem Randolph had with the festival was that some areas were not as accessible as others. This, she said, could be changed with a new layout.
"The Overlook parking lot layout was great; however, there are some areas we would like to change," she said. "This is a community festival, and we want to get everyone involved."
Other new possibilities included replacing the carnival with a circus.
Smith said the carnival made money but thought a circus could do better and involve less planning.
"A circus handles its own promotions, and I'm pretty sure it would be full," he said. "When I was the police chief, we brought a circus in every so often, and it was real successful."
On June 24, Lansing DAZE organizers will have an after-action meeting about how everything went, Randolph said.
This will give city employees the opportunity to meet with organizers and volunteers to discuss what worked well at this year's festival and suggest improvements for the future, she said.