City flags
LHS

student's entry as winner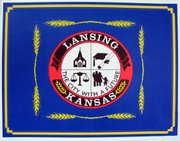 Thomas Bender originally hadn't planned on entering the contest to design a flag for the city of Lansing.
But since he had to create one as part of an assignment in his advanced word processing class at Lansing High School, he went ahead and entered.
The effort is paying off. His design - a field of blue with a golden rod border and the city seal in the middle framed by wheat staffs - was selected as the contest winner. Tonight, Bender will collect the $175 first prize at the Lansing City Council meeting.
Bender, who will be a senior at Lansing High School in the fall, was one of about 80 students in Lansing schools who submitted an entry. The only mandatory criterion was to include the Lansing seal on the flag.
"I didn't have much of an idea to start but decided on the blue background because of the Kansas flag," Bender said about his beginning design.
"Kansas is known as the breadbasket of the world, which is why I chose the wheat for around the seal," he said, "and I thought that the golden rod border complimented that well."
Sue Lednicky, who taught Bender's advanced word processing class, said she gave the create-a-flag assignment to each of her word processing classes. Of the 70 or so students in the classes, about 25 or 30 decided to enter the contest, she said.
Lednicky said she remembered Bender's work.
"His was a very simple design," she said. "There were several with the school colors, reds, whites and blacks, but his had the blue on it."
Bender, Lednicky said, has taken every computer class she teaches, and she's proud to see her student be recognized for his artistic talent.
"This is good for Thomas," Lednicky said. "When it comes to being creative, he says that's not him. This should show him that he is."
In all, more than 80 entries were submitted. A five-person committee appointed by, and including, Mayor Kenneth Bernard whittled those down to five finalists. City Council members were polled to determine the winner.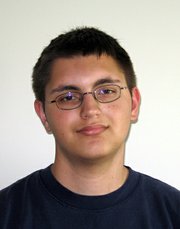 The idea of staging a contest to decide on a Lansing city flag came from City Council member Billy Blackwell after seeing preliminary designs for the Lansing Memorial to Veterans. Mike Howell, vice commander of VFW Post 12003 and originator of the idea for the memorial, had included United States, Kansas and Lansing flags in the plans, not knowing that a Lansing flag did not exist. The flag contest was conceived, in part, to solve that problem.
In addition to Bender, the four other finalists will be honored at this evening's council meeting, which is set to begin at 7 p.m. at City Hall, 800 First Terrace. Those finalists, their places and awards are:
¢ Bender, first place, $175
¢ Grace Anderson, second place, $75
¢ P.J. Baker, third place, $50
¢ Theo Daniels, fourth place, $25 savings bond
¢ Brittney Atchison, fifth place, $25 savings bond.