First-ever barbecue contest smokes out winning chefs
Teams in the first Lansing DAZE Brew, Blues & Bar-B-Q competition found a little added spice to the contest Friday and Saturday: Mother Nature's elements.
The eight teams competing were set up in the field south of City Hall and had to contend with wind and rain both overnight Friday and much of Saturday morning.
But the skies cleared just as the chefs began submitting their entries to City Hall, where a panel of judges rated the barbecue offered in four categories: chicken, pork ribs, pork butt and beef brisket.
Jay Ellis, leader of the Jay Birds BBQ Crew from Lawrence, moved his two smokers under a tent overnight to keep the rain from cooling the smokers' fires.
"Once they cool, it takes a lot to get them back up to where you want them," he explained.
Evidently, the move paid off. Jay Birds BBQ Crew was awarded first place in the brisket category and third place in pork butt. Combined with its scores in the chicken and rib categories, the team earned enough points to be crowned grand champion of the competition.
Reserve grand champion was Dusty Roads BBQ, headed by Leavenworth chef Eddie Moore. Dusty Roads placed first in the chicken category and first in pork butt.
The final category, ribs, was won by It Takes 2-2 BBQ, headed by Robert Eberth of Leavenworth.
For its efforts, Jay Birds BBQ Crew took home a grand prize of $1,500 plus a new smoker; Dusty Roads BBQ received $1,000 for its reserve grand prize.
Lorraine Gluch, of the city's Economic Development/ Convention and Visitors Bureau office and the contest's organizer, said she was pleased with the Brew, Blues & Bar-B-Q's inaugural competition.
"I know we only had eight teams, but I was happy with those eight teams," she said. "Unfortunately with all the rain, it was real wet down there."
Photo Gallery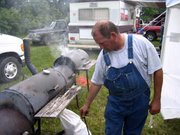 Brew, Blues & Bar-B-Que Contest
Here are the official placings in this year's Lansing DAZE Brew, Blues and Bar-B-Q contest:
¢ Grand Champion, Jay Birds BBQ, Lawrence
¢ Reserve Grand Champion, Dusty Roads BBQ, Leavenworth
¢ Chicken: Dusty Roads BBQ, first; Hot Spot BBQ, John Dolinski and Kirk Warden, Lansing, second; Tip A Few and BBQ, Ron Roberts, Merriam, third.
¢ Ribs: It Takes 2-2 BBQ, Leavenworth, first; Beg Borrow and BBQ, Jeff Flory, Leavenworth, second; Smoke Rattle and Roll, Alan Dunster, Effingham, third.
¢ Pork butt: Dusty Roads, first; Tip A Few and BBQ, second; Jay Birds BBQ Crew, third.
¢ Brisket: Jay Birds BBQ Crew, first; Smoke Rattle and Roll, second; Tip A Few and BBQ, third.