Youths applauded for Spirit of Lansing efforts
Saturday morning's rain may have dampened some Lansing DAZE festival events but not the mood at the first Spirit of Lansing awards ceremony.
The awards were given out under a tent in a parking lot the morning after the competitive part of the contest was staged at Lansing Middle School.
The contest was split into three parts: a community service project to have been completed between April 10 and Friday, Lansing trivia questions, and a costume contest.
Christina Sanderson, administrative clerk for Lansing Parks and Recreation, thought up and organized the contest with Lansing librarian Darlene Dean.
"I thought it was great," Sanderson said after the contest. "I think they all came out and did a good job."
Each of the six participants received a bouquet of flowers and a goody bag of prizes.
An award was given to the top entrant in each age division.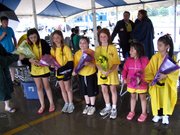 Orion Fairbanks, Lansing Elementary student, was awarded the prize for the 6-year-old division, and Victoria Thompson won the award for the 8-year-old division. Thompson's costume was made from business cards, placards and flyers of local businesses.
Hannah Johnson took first place in the 10-year-old category. Johnson, a student at Lansing Intermediate School, did chores for an elderly Lansing resident and dressed up in her cheerleading outfit for the Friday night portion of the contest.